Family of patient killed in ambulance crash files wrongful death lawsuit
Nyema Jackson's family is suing both West Tennessee Healthcare and Deborah Schichtel, who was driving the ambulance at the time of the crash
---
By EMS1 Staff
NASHVILLE, Tenn. — The family of a patient killed in an ambulance crash filed a wrongful death lawsuit.
WSMV reported that West Tennessee Healthcare and EMS provider Deborah Schichtel, who was driving the ambulance at the time of the crash, are both named as defendants in a lawsuit filed on behalf of Nyema Jackson's children.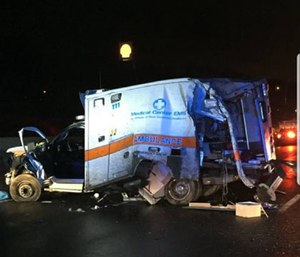 Jackson and paramedic Zachary Pruitt were ejected from the ambulance after it hit a rock wall. They were both transported to a hospital, where they were pronounced dead.
Schichtel told police the rain caused her to hydroplane while trying to negotiate around a road curve.
A preliminary investigation determined that "excessive speed" and weather conditions were the main causes of the crash. Witnesses also said the ambulances lights and sirens were not activated.
According to the lawsuit, the "proximate cause of Jackson's injuries, damages, suffering, and death, was the negligence of Defendant Schichtel, who was negligent by failing to maintain a proper lookout; by failing to maintain proper control of her vehicle; by driving too fast for the road conditions; by failing to make use of the proper visual and audible emergency signals; by disregarding her duty to use due care for the safety of all persons; and by recklessly disregarding the safety of others."
A jury trial has been requested to determine how much Jackson's children should be awarded.
Police said the crash is still under investigation and it is unknown whether criminal charges should be filed against Schichtel.