7 hurt after concrete truck crashes into back of ambulance
Officials said the crew was trying to calm a patient who had tried to climb out of the back of the ambulance when a concrete pumping truck crashed into the rig
---
By EMS1 Staff
LOUISVILLE, Ky. — A concrete pumping truck crashed into an ambulance Monday while an EMS crew was pulled over trying to calm a patient, according to officials.
Officials said Louisville EMTs Kristopher Haeberlin and Christopher Barrett were transporting a patient to the hospital when the patient tried to climb out of the back of the ambulance, WDRB reported.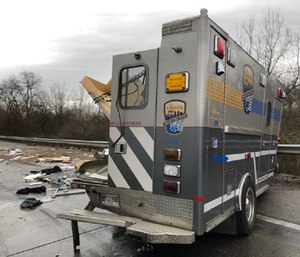 The crew pulled over to try and calm the patient and had just secured her back onto a stretcher when a concrete pumping truck crashed into the ambulance, sheering the rig in half.
Two other vehicles and an 18-wheeler also crashed as a result of the incident, and the two EMTs, along with five other people, were transported to the hospital with head injuries.
"I felt sick to my stomach. It was horrifying," EMT Allison Brown said. "It's surprising they're both still alive, just looking at the images and what happened to the truck."
Brown, who graduated from the same training class as the EMTs, said they are both "very hard working men" who are "very passionate" about the EMS industry.
"We're just upset," Brown said. "We're all sad. That could have been any one of us. We never want any of this to happen with anyone we work with, and I think for a lot of us in the academy, it kind of hits home. We haven't been doing this very long, and it could have been anyone of us on the street who pulled over."