Air ambulance company flies healthcare worker with COVID-19 home for free
Respiratory Therapist Roman Valles, a contractor for Peak Medevac, was flown home to Colorado after contracting COVID-19 while deployed to Texas
---
By Laura French
DENVER — An air ambulance company flew a healthcare worker from Texas to Colorado after he contracted COVID-19 during an out-of-state assignment. 
Respiratory Therapist Roman Valles, 27, a contractor for Peak Medevac, was working in Texas to aid COVID-19 victims when he contracted the virus himself, according to a Peak Medevac press release. Valles' symptoms worsened, making it difficult for him to travel back home to his family.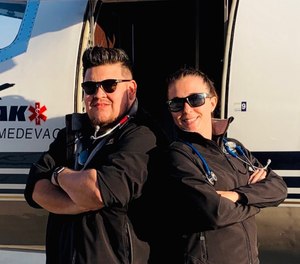 Valles' family put out a plea for help getting him home to Colorado while he was in the ICU at a hospital in Arlington, Texas, The Denver Channel reported earlier this month. Because Valles didn't have health insurance to cover the costs of a medical flight, his family wasn't sure how long he would be stranded in Texas, and launched an online fundraiser in the hopes of paying for a flight and his medical bills. 
This week, Peak Medevac sent an air ambulance and medical crew to bring Valles back to Colorado. On Wednesday, his family posted an update on GoFundMe: "Roman is home in Colorado! Thank you Peak Medevac!"
Valles' deployment to Texas was his second during the pandemic; he also spent two months in New York working on the front lines to treat COVID-19 patients. According to Peak Medevac Flight Operations Manager John Biggs, "He's a shining start within our organization and we couldn't be happier to help."