Federal agency calls for transparency in air ambulance industry pricing
The Government Accountability Office studied prices charged by air ambulance providers and found that they are able to set any price they want
---
By EMS1 Staff
WASHINGTON — A new government report said the air ambulance industry should disclose more pricing information to consumers in order to prevent "potentially devastating financial impacts."
ABC News reported that a report released last week by the Government Accountability Office studied air ambulance provider charges and found that people were often unaware of the amount of the bills they would receive, and the air ambulances could charge whatever they want.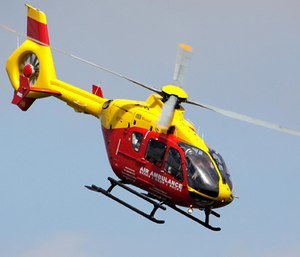 Consumers reported paying $40,000 for a short flight, without much help from their insurance plans. The report found that the industry's largest for-profit company, Air Methods of Englewood, Colo., uses "balance billing," which means patients have to cover whatever insurance does not.
The report also found that since the companies aren't allowed to refuse patients with Medicare or Medicaid, they increase the cost for those with private insurance.
When asked about high prices such as a 37-mile trip that cost $35,000, Air Methods Vice President Paul Webster said the high costs are put in place to make up for the low government reimbursements for the elderly and poor.
"If everybody paid their fair share, you know what the charge for this service would be? Twelve thousand dollars," Webster told ABC News.
The median price for an air ambulance transport doubled between 2010 and 2014, from $15,000 to $30,000, according to the report.
After its findings, the GAO report urged the U.S. Department of Transportation to require air ambulance providers to be upfront about their prices – that way hospitals could decide on the best mode of transportation and insurers could determine fair reimbursements.
Bryan Slater, Assistant Secretary for Administration at the Department of Transportation, said the air ambulance industry cannot be regulated. 
"We are concerned about the effectiveness of disclosure requirements for a significant portion of the industry's operations, specifically transporting patients in emergencies," Slater said.