Amid opioid crisis, a call for safe injection sites
At a safe injection site, addicts would have access to clean needles, medical supervision and access to opioid antidotes that can reverse an overdose
---
By Maki Becker
The Buffalo News, N.Y.
BUFFALO — On Good Friday at the Broadway Market, three women whose lives have been touched by the opioid epidemic plan a rally to demand public officials do what many would consider a last resort to stop people from dying from overdoses.
They want the county to open safe injection sites. At a safe injection site, addicts would have access to clean needles, medical supervision and access to opioid antidotes such as Narcan that can reverse an overdose.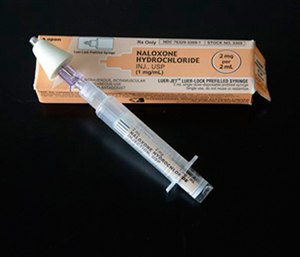 "A lot of people are going to be opposed to it," said Marilyn Gentile, one of the organizers of the "Rally to Save Lives."
Her son Bobby Nunzio Giovino died in 2016 from a heroin and fentanyl overdose.
"But what are we going to do? Wait for more people to die?" she asked. "Now's the time to get one. Do it now. It's a state of emergency."
Erie County Health Commissioner Dr. Gale Burstein understands the frustration in the community over the overdose deaths but said it's unlikely the county would open a safe injection site.
She acknowledged that injection sites are "a potential tool in the toolbox to prevent overdose deaths."
Earlier this year, Seattle passed legislation paving the way to open the nation's first safe injection sites. New York City and Ithaca have raised the possibility of opening such sites. Across the border, Toronto approved three safe injection sites.
But Burstein also pointed out that such sites are technically not legal.
"So places in the U.S. that do try to open them are at risk of having them closed down by the Department of Justice at any time," she said.
What's more, the injection sites also are expensive to operate, she said.
"They cost millions of dollars a year," she said.
More than 320 people are believed to have died of an opioid overdose in Erie County last year. About 100 people are either confirmed or suspected to have died from overdoses so far this year, according to the organizers. And 17 overdoses occurred between March 29 and April 6.
County officials called an emergency news conference on March 30 to warn drug users about deadly heroin likely laced with some form of the highly potent opioid fentanyl that was being sold in the area.
The women next Friday will make three demands:
 Safe injections sites
Outreach teams to areas where drugs are being sold who can distribute the opioid-antidote naloxone
For New York State to declare a state of emergency
The rally organizers are well aware that a safe injection site would be controversial. Heated debate already surrounds proposals for the opening of methadone clinics.
But they believe the steps being taken now aren't enough.
"We have to do something," said Tracy Diina, another organizer.
Diina has battled addiction to cocaine and crack and later opioid pills and has been in recovery since 1994.
"There are people dying. They are dropping dead."
The county is taking a different approach by treating addiction as a long-term process, for the people suffering from addiction as well as in the community at large.
"Opioid addiction is a chronic disease of the brain," Burstein said. "People who are addicted are addicted for life to opioids."
The county Health Department has a 24-hour hotline -- 831-7007 -- aimed at connecting addicts to treatment, she said. It's working with the local medical community to educate doctors about the risks of addiction as well as how to treat addiction.
The department also has aggressively promoted the use of Narcan and other opioid antidotes by holding training sessions throughout the county. Narcan is also available over-the-counter throughout the state, Burstein said.
In addition, Evergreen Health on South Elmwood Avenue operates a free syringe exchange program funded by the State Department of Health where people can exchange used needles for clean ones.
Declaring a state of emergency wouldn't help in the long run because such declarations are designed to be in effect for short period of times, for example in the aftermath of a storm, Burstein said.
"We feel that we are going to be committed to working on this for the long run," she said. "This is not going to be a problem where we can fix something and leave."
County Executive Mark Poloncarz's declaration last year that the opioid epidemic is a "public health crisis" led to the formation of an opioid epidemic task force.
"It's bringing together in an organized approach, different parts of the county," Burstein said.
"We're always trying new strategies," Burstein added. "This is not static at all. ... We try to be evidence based. We have very few resources. We want to use those wisely."
Diina, who struggled with opioid addiction that started when her doctor prescribed them to her following a C-section, knows that safe injection sites may not be a cure-all.
She wonders how many addicts would take advantage of them.
"I understand that it's a costly, controversial measure," she said. "It's taking a problem and addressing it head on.
"A safe injection site would send a powerful message to addicts that the community cares about them and wants them to get better," Diina said.
It would tell addicts that "we know you're not going to stop using drugs," she said. "We're not saying that it's OK. We want you to be safe and we care about you. Here are some resources. We don't want you to die."
Gentile believes the deaths will only continue without immediate action. Her son died at the age of 25 on Jan. 6, 2016. Giovino had been released the day before from a 42-day stint in jail. His mother found him dead in a chair in front of the computer in their Cheektowaga home.
At an injection site, users would have clean needles and supervision, but they'd also have a way to reach out for treatment, Gentile said.
"Nobody can force them to get help unless they want it themselves," she said. "All we can do is try to keep them alive until they can come to that point."
She wishes her son could have had a safe place to shoot up -- even if it meant doing it in front of her.
"If I had a do-over, I would tell Bobby: 'If you're going to use, please use in my presence. If something happens, I can save you,' " she said.
Gentile knows that sounds outrageous. But she asks what would be worse?
"The worst thing is death," she said. "Do you want your child alive? I want my child alive. I wish I could turn back time."
Gentile, Diina and a third woman came up with the idea for the rally following the recent spike in overdose deaths.
The rally, which they have advertised through Facebook, is planned for 4 to 7 p.m. Friday across Broadway from the Broadway Market, 999 Broadway.
They chose Good Friday because it would be a memorable date and there would be lots of people at the Broadway Market picking up last-minute groceries and decorations for Easter celebrations.
"We're going to go with signs," Gentile said. "No special speakers ... We'll just be walking around the streets there getting awareness out there."
___
(c)2017 The Buffalo News (Buffalo, N.Y.)