2018 EMS Trend Report: How the optimism divide will shape EMS' future
EMS1 and Fitch & Associates take an in-depth look at EMS trends in the United States and set a foundation for assessing how the EMS profession is changing
---
EMS1 and Fitch & Associates have released the 2021 EMS Trend Report Survey to identify industry challenges and opportunities. Participate in the 2021 EMS Trend Report: Take the survey
By Jay Fitch, Guillermo Fuentes and Greg Friese
EMS professionals tend to focus on the here and now when they respond to an emergency. The incident and that patient's injury is their only concern until they complete their documentation and make themselves available for the next call.
While an individual patient contact and aggregated ePCR data offer views into the profession, to fully gauge the state of EMS, it is important to look at the past, the present and future of the industry.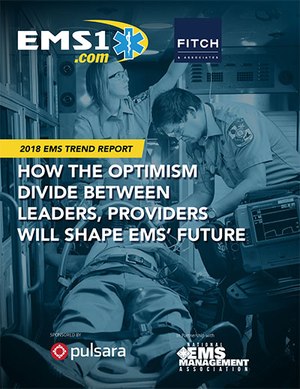 The third year of the EMS Trend Report continues the effort of EMS1, Fitch & Associates and the National EMS Management Association to identify changes and trends over time. Read this year's trend report, sponsored by Pulsara, to see how some revelations have conformed to expectations, while others have defied predictions. 
All of us have a responsibility to the profession to propose actions EMS leaders can take to act on these revelations, differences of perception and concerns for the future. 
Share this trend report with other paramedicine leaders. Discuss the findings and send us your thoughts on how EMS is changing to editor@ems1.com.