Amtrak train collides with tractor-trailer in Md.
A Frederick County Department of Fire and Rescue crew transported the truck driver to a hospital
---
By Leila Merrill
BRUNSWICK, Md. — An Amtrak train traveling from Washington, D.C., to Chicago struck a flatbed truck that was stuck on the railroad tracks Wednesday evening, injuring one person.
This follows the Missouri Amtrak crash more than a month ago that killed four people and injured dozens, and an Amtrak train collision that killed a pedestrian in Vacaville, California, in July.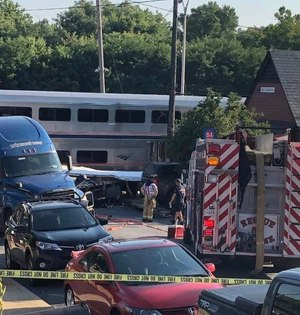 There were no reported injuries to the crew or the 142 train passengers in the Maryland crash, but the truck driver was transported to a hospital, WJLA reported.
The 5:15 p.m. incident occurred at the MARC Train Station in Brunswick and drew emergency units from three states and four counties, including Frederick and Washington counties in Maryland; Loudon County, Virginia; and Jefferson County, West Virginia.
"A traffic backup lead to a tractor-trailer being on the railroad tracks at the time an Amtrak train was coming through," Frederick County Department of Fire and Rescue Public Information Officer Sarah Campbell wrote in a press release. "There was nowhere for the tractor-trailer to go. [The] train struck [the] rear passenger side of the trailer causing it to be pushed into a passenger truck. The passenger truck was pushed into the building."
The truck occupant's injuries were non-life threatening, according to Campbell.