NYC subway program to station EMTs at 4 busiest locations
The change from 12 stations to four will focus on stations most benefited by the program
---
Clayton Guse
New York Daily News
NEW YORK — New York City's Metropolitan Transportation Authority (MTA) has made a major change to a program that aims to help emergency medical technicians quickly respond to sick straphangers.
Starting last week, the agency began deploying its EMTs to the 149th St.-Grand Concourse, 125th St. and Grand Central-42nd St. stations on the Nos. 4, 5 and 6 lines, as well as the sprawling Times Sq.-42nd St. station, according to a memo obtained by the Daily News.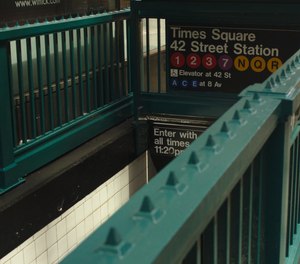 EMTs will be in place at those four stations from 6 a.m. to 10 a.m. on weekdays, and will also be stationed at Grand Central from 3 p.m. to 7 p.m. Monday to Friday, the memo states.
The move is the latest shift to the MTA's "EMT Help Hub Program," which was launched at 12 stations in 2017 as a part of the agency's Subway Action Plan.
The goal of the initiative was to enable EMTs to swiftly respond to medical episodes in the subway, which were responsible for hundreds of delays in a year when the system's on-time performance lingered below 70%.
MTA spokesman Tim Minton said the move to station the EMTs at four stations instead of 12 does not mean the program has shrunk.
"We are focusing resources on the locations that have shown significant benefit from the program based upon a review of EMT activity and impact upon delays," said Minton. "Medical assistance is available anywhere in the transit network at any time through the 911 system."
The EMTs who were deployed to the four stations have accounted for roughly 69% of the delays that have been prevented through the program, according to MTA data.
The launch of the program has correlated with a slight drop in the number of delays caused by sick passengers or other situations that require first responders.
MTA stats show sick or injured passengers caused approximately 16,083 subway train delays during the first 10 months of 2019.
That's a 23% drop from the 20,873 train delays the agency said was due to ailing straphangers during the same period of 2018.
———
©2020 New York Daily News
McClatchy-Tribune News Service