Conn. bill would allow paramedics to treat, transport injured K-9s
Proposed legislation co-sponsored by members of the Connecticut House and Senate would allow paramedics to treat injured K-9s on scene
---
By EMS1 Staff
HARTFORD, Conn. — A proposed bill would allow injured K-9s to be treated by paramedics and transported by ambulance to a veterinary hospital.
News 12 reported that the bill was introduced earlier this month at a Public Health Committee hearing, and would need to be passed by both state houses and signed by the governor to become a law.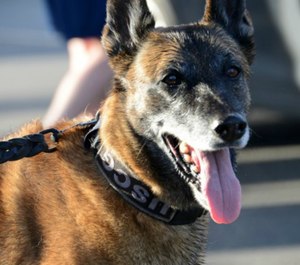 Co-sponsored by state Rep. Brenda Kupchick and state Sen. Tony Hwang, the bill would allow paramedics to treat K-9s injured in the line of duty on scene and transport them to the veterinary hospital by ambulance.
Similar laws in other states only allow transport of K-9s in the event that ambulances aren't needed by people.