UK police smash car window to 'rescue' lifelike doll
Officers responded to a call for a baby locked inside a car; when they couldn't find the owner, they decided to act
---
DUDLEY, England — Police broke a car window to save what looked like a newborn baby, but they were surprised by what they found.
Two officers responded to a call for a baby "just days old" trapped in a car outside a hospital, The Telegraph reported.
"Wrapped tightly in a blanket and with its face and arms covered, the duo feared that a depressed new mother had left her 'baby'", police said.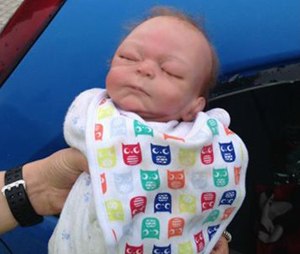 After trying to find the owner of the vehicle, the officers decided to act to save the baby, only to find out that it was an "extremely lifelike" doll wrapped in a blanket.
"Efforts were made to trace the owner of the car. But believing this was a genuine emergency, they broke a window to investigate further," police said.
Police have since apologized to the owner of the car and said they would pay for the damage. The owner said she was stunned to return to her car to find the window smashed and a note from the police saying to call them.
The doll belonged to the woman's 10-year-old sister.
"I can understand why they broke into the car if they really thought there was a baby inside," she said.
West Midlands Police posted a photo of the doll on Facebook, asking their fans, "What would you do?"
More than a thousand responded, giving support to the officers' actions.