Congressman helps firefighter-paramedic return home from Mexican hospital
Fire Lt. Jason Oliver has been unable to leave a hospital in Cancun after being transported by ambulance while on vacation with his wife
---
LAFAYETTE, Colo. — A fire Lt. and paramedic is returning home from a Mexican hospital after being forced to contact a congressman when he was unable to leave.
Times Call reported that Lt. Jason Oliver was on vacation with his wife, Maigan, in Cancun when he was transported by ambulance to a local hospital after noticing some troubling neurological symptoms.
After receiving a CAT scan, doctors found that Lt. Oliver's brain had started to bleed.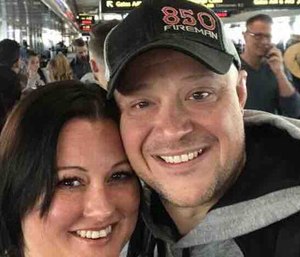 The Olivers were told the hospital stay would cost $6,000 and they would be charged an additional $3,000 for tests. However, the couple ended up being charged over $20,000 and no tests or plan of treatment were offered.
"It feels like it's extortion," Maigan said. "You know my husband's got this going on and I'm scared to death, and they can tell I'm scared to death."
The hospital also would not allow Oliver to be moved without permission.  Unsure of the severity of his condition, they began racking their brains on what to do and called Congressman Ed Perlmutter as a last resort.
"We first got in touch with Jason on Sunday and put them in touch with the consulate and embassy," Ashley Verville, a spokesperson for Perlmutter, said. "Since then the consulate has put a little pressure on the hospital and really helped get things moving."
The latest scan showed that Oliver's brain bleeding had slowed enough to make commercial flying doable, and the couple will be able to return home Wednesday afternoon.
A GoFundMe was launched to help with the Oliver's medical bills, and more than $35,000 has been raised.
"It just makes us feel so, so loved," Maigan said.