10 firefighters hospitalized after fighting chemical company fire
The fire extended into an adjoining lab, prompting officials to call in a hazmat decontamination unit in case anyone had been exposed to potentially harmful chemicals
---
Joseph A. Gambardello
The Philadelphia Inquirer
DELAWARE COUNTY, Pa. — Ten firefighters and three employees were sent to hospitals early Friday as a precaution after a fire in a Chester chemical plant office extended into a nearby lab, officials said.
No serious injuries have been reported following the blaze at the Norquay Technology Inc. complex, located at 800 Front St., officials said.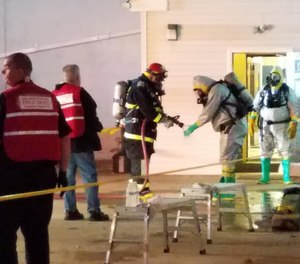 Chester Fire Commissioner William C. Rigby IV said firefighters responded to a blaze in an office at the plant about 1 a.m. Friday.
The fire extended into an adjoining lab, prompting officials to call in a hazmat decontamination unit in case firefighters and employees in the building had been exposed to potentially harmful chemicals, Rigby said.
After on-scene decontamination, the 10 firefighters and three employees went to three area hospitals for further examination, Rigby said. There was no immediate indication that anyone had been adversely affected by exposure to any chemical.
Norquay's product line includes chromic, electronic, catalyst, ligand, medical adhesive and UV performance products, according to a statement announcing the company's acquisition by MPD Chemicals in January 2018.
———
©2019 The Philadelphia Inquirer
McClatchy-Tribune News Service