Fla. firefighter-medic shot, killed after confrontation
Lt. Sam Dreher was victim of attempted mugging and shot while fleeing on Saturday
---
By EMS1 Staff
SARASOTA COUNTY — Fla. A firefighter-medic has died after being shot in an altercation in Sarasota County.
Lt. Sam Dreher, 39, of Charlotte County Fire and EMS, who was off-duty, confronted Michael L. Minor Jr., 27, Saturday after he repeatedly entered Lt. Dreher's vehicle thinking his possessions were in that car, according to the Herald Tribune.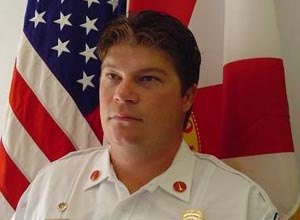 Police say Minor then demanded Lt. Dreher's wallet and cellphone. When he saw that Minor had a gun, Lt. Dreher tried to run back upstairs to his apartment, but Minor fired four shots, two of them wounding him.
He was later found unconscious on the steps and was airlifted to a nearby hospital but died the following day.
Minor was arrested for first-degree murder.
Charlotte County Fire Chief Dennis DiDio described EMS Dreher as an animal-lover and "a happy-go-lucky guy."
Chief DiDio told the Herald-Tribune that Firefighter Dreher was an organ donor and heard that three people had received organs from him.