Why EMS providers need living wills
It is not easy to speak about living wills. But for every first responder, it's a conversation worth having.
---
By EMS1 Staff
Even for first responders, who see illness, injuries, and death on a regular basis, contemplating a living will is uncomfortable. But considering how confusing and controversial providing end-of-life care can get, it's a subject worth talking about. 
What is a living will?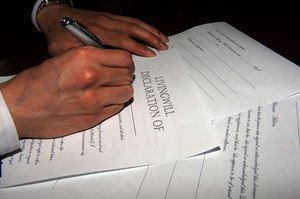 A living will, unlike most estate planning documents, has no power after death. The living will is only concerned with providing directions for your end-of-life care. Also known as an advance directive, it can include as much or as little direction as you like. The living will provides instructions for decisions like:
•  Pain-relieving treatments
• Do not resuscitate (DNR) orders
• Life support decisions
• Organ donations
There are many more decisions a living will helps your family members carry out, but it's important to note that the living will often doesn't cover everything. For example, you may not have specified whether you'd want certain life-saving treatments like emergency surgery in the living will. This is where having a trusted agent to act in your best interests will help you carry out your wishes.
The health care power of attorney and living wills
It is crucial for first responders to have both a health care power of attorney and a living will. The high risk of serious injury that comes with first responders' daily duties, compared to most other professions, makes it more important to have advanced planning in place.  
State laws and procedures differ, but often the health care power of attorney is included in the living will. Usually, the agent (or the "health care proxy") granted the health care power of attorney is a spouse or trusted individual. It's a good idea to designate contingent agents as backups to the primary agent. The designated agent has the authority to act on behalf of the incapacitated first responder if the first responder is incapable of making their own decisions.
Additionally, if you're not terminally ill or permanently unconscious, the instructions of the living will do not come into effect. But if you can't communicate, you'll still need someone to make decisions on your behalf. In this situation, it's up to your designated agent to make those decisions. 
Why do I need a living will?
1. Control your end-of-life decisions
If you do not have a living will, the decisions to carry out your last wishes could rest in the hands of the courts or a long-lost family member. That's because when there is no living will, state law takes effect. A living will gives you the power to control how decisions are made and who makes them.
2. Protect your long-time partner
When there is no living will, state law puts the health care power of attorney into the hands of your spouse, then your family. If you have a long-time partner, but you're not married, your partner would be completely excluded from any end-of-life decisions.
3. Choose among multiple children
In every case, designating an agent in your health care power of attorney avoids confusion. If you have multiple children, a living will allows you to designate who makes the decisions. That way you're not leaving your family guessing and arguing over what to do.
4. Provide peace of mind 
Ultimately, a living will gives you, and your loved ones, peace of mind. This process is never going to be easy, but anything you can do to smooth out the logistics is huge. With a clear living will, your family won't be arguing over what to do, and they won't second guess themselves.
Imagine trying to guess at someone's dying wish. Even if you come to a decision, it may weigh on you in the future. 
5. Direct organ donation decisions
To help as many people as possible, specifying instructions for organ donations is imperative in living wills. On the other hand, if you have religious or personal beliefs that conflict with organ donations, a living will can specify those beliefs.
6. Your perspective is different
As an EMS provider, firefighter or police officer you have likely watched or been present as families debate treatment and resuscitation actions for a loved one in cardiac arrest. Perhaps you've witnessed the misunderstanding that ensues when a well-intentioned adult child calls 911 when their parent is receiving in-house hospice care. You also know how many families struggle to make an organ donation decision in the critical minutes after a spouse, parent or child suddenly dies. These experiences should reiterate the importance of having a living will to protect you and your family. 
What happens when there is no living will?
In the late nineties and early 2000's, the Terri Schiavo case was an extremely controversial legal fight that went all the way to the Florida Supreme Court.  Ashley Case, an attorney for Tiffany and Bosco, rehashes the conflict. 
"Mrs. Schiavo had been in a persistent vegetative state since 1990 when her husband filed a petition in 1998 to remove her feeding tube. Mrs. Schiavo's parents fought the petition. Absent any evidence of Mrs. Schiavo's last wishes, a court battle ensued. It wasn't until 2005 that the court ruled in favor of the husband. 
The case dragged on for seven years. All the while, Mrs. Schiavo's husband, parents, and other family members were subject to immense emotional trauma beyond that of simply losing their daughter, sister, and wife. " 
Of course, not every case becomes so controversial. But the Schiavo case shows how difficult the decisions are that a family must make when a loved one is in a terminal state. Families can be left wondering whether they made the right decision. And in extreme cases, like Mrs. Schiavo's, families can be torn apart when it's unclear what to do.
With a living will, health care decisions are "blessed" beforehand by the person themselves. This avoids confusion and controversy for everyone involved.