PRESS RELEASE
TrueClot® Basic Packing Trainer makes wound packing training more accessible
---
LELAND, NC. – Rescue Essentials and TrueClot® by Luna Innovations, Inc. ("Luna") are proud
to introduce the TrueClot® Basic Packing Trainer (BPT).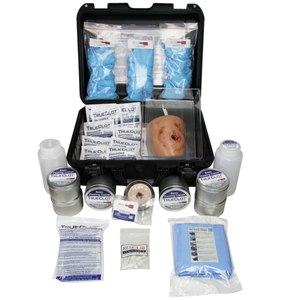 The TrueClot® Basic Packing Trainer (BPT) is a low-cost, introductory level dry wound packing task trainer for the "crawl" stage of training. Students can repeatedly practice correct wound packing techniques and develop muscle memory to hone their bleeding control skills. Constructed from durable silicone, the simulated gunshot wound can be packed with 12 feet of gauze and heavy external pressure can also be applied. The small form factor is ideal for tabletop classroom use, Stop The Bleed courses and in-service training.
"We are excited to introduce the TrueClot BPT as a stand-alone item as well as part of our new Instructor kit," said Jim Seidel, CEO of Rescue Essentials. "This product allows instructors to set up several dry training stations for student practice before they move over to the wet training stations using the TrueClot Task Trainers. This combination creates a more realistic and complete training system for enhanced bleeding control skills development"
Features of the BPT include:
Large caliber gunshot wound, the same size wound cavity as in the popular TrueClot® Wound Packing Task Trainer
Can also be used as a wet trainer with TrueClot® simulated blood for more realistic packing
Small form factor for tabletop use and easy storage
Durable silicone construction with "suction cup" base designed to stay in place during even the most aggressive wound packing
Watch a video demonstration of the TrueClot® Basic Packing Trainer here: https://youtu.be/nueGlEzdegk
"We are very excited by the BPT, which was inspired by customer feedback and is the result of collaborative design and development. It is certain to make realistic wound packing training more accessible," said Michael J. Danilich, PhD., Vice-President for Operations, LunaLabs, a division of Luna.
Rescue Essentials is the North American Master Distributor for Luna's TrueClot Hemorrhage Control Training Products, which can be purchased both online, and through direct sales channels. Since 2019, this
partnership has provided value to Rescue Essentials customers by offering all of Luna's TrueClot Hemorrhage Control Training Products through a reliable, flexible fulfillment source.
About Rescue Essentials
Rescue Essentials, a division of Tr-Tech Forensics, Inc., is dedicated to providing the best service, products,
prices and, most importantly, survival outcomes for first responders, trained professionals, government agencies and everyday heroes. We're proud to offer the widest selection of tactical emergency medical equipment and custom kitting capabilities available online. Learn more at rescue-essentials.com.
About TrueClot
The TrueClot® team is committed to developing long-lasting and low-cost products that provide the most realistic bleeding control training experiences possible. At its core, the TrueClot® team is a collection of engineers, researchers and first responders who are driven by innovation and rely on customer feedback to develop realistic and creative training tools. Learn more at trueclot.com.
Basic Packing Trainer
Price: $120
Contains:
1 Durable silicone wound trainer
1 Pack of training compression gauze
1 Storage container
Basic Packing Trainer Instructors Kit
Price: $1,585
Contains:
6 TrueClot Basic Packing Trainer Kits (each includes 1 pack of training gauze and individual storage tin)
20 Pairs Blue Triton SE Nitrile Gloves, Medium
20 Pairs Blue Triton SE Nitrile Gloves, Large
20 Pairs Blue Triton SE Nitrile Gloves, X Large
1 TrueClot Concentrated Blood Simulant (4 pack, 1 liter each)
5 Backflow-Prevention Valves with Barbed Fit for TrueClot Trainer
1 TrueClot GSW Wound Assembly
10 Gauze, Z-Fold (12 ft)
1 MedMat Medical Procedure Mat
2 Dynarex Underpads, 23" X 24"
1 Plastic Tray
1 Squeeze Bottle (1 liter)
3 Silicone Tubing Silicone for Bottle Assembly, 12"
1 Mixing Bottle w/cap (32oz)
2 Waste Bags, (33 Gal)

Request more info from Rescue Essentials
Thank You!