H&H Medical Introduces TACgauze Wound Wrapping Gauze: Innovative Product Brings Wound Gauze Manufacturing Back to US
---
For over fifty years, woven cotton gauze was standard protocol in controlling severe bleeding from wounds and for wound management. Packing wounds and wrapping injuries with cotton gauze is traditionally taught at all levels of military and civilian emergency medicine, however, domestic manufacturing of woven cotton gauze is proven to be expensive and most production has moved overseas.
Now, H&H Medical brings the production of cotton gauze for wound management back to the US. Based on a joint research program with the U.S. Department of Agriculture, TACgauze Wound Wrapping Gauze was developed to use existing manufacturing processes in the US to create an affordable, effective, Berry Amendment compliant gauze for military and civilian use. With these measurable benefits, TACgauze marks the next generation of trauma gauze.
This non-woven product incorporates a proprietary blend of bleached cotton, synthetic fibers, and TRUE COTTON™; a sustainable, chemical free, cotton product from T.J. Beall Company, into a non-woven gauze product that is significantly more absorbent by weight than standard cotton gauze. Additionally, TACgauze sheds fewer fibers than standard woven cotton gauze, is less adherent to damaged tissues, and can be torn into smaller units for easier application.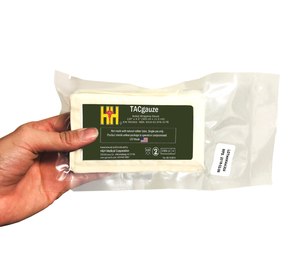 "TACgauze represents the culmination of close to a decade of USDA research and commitment from partners like T.J. Beall," said Paul Harder, president of H&H Medical. "We believed we could create a new gauze product that is better than current technology, at a competitive price, and made in the US. TACgauze meets all of those requirements."
The TACgauze will be available by December 2018 in lengths of 4.5" wide by 120" long. The first edition will be a rolled version, vacuum packed and sterilized. A version of TACgauze that is z-folded will be available by March 2019.
About H&H Medical Corporation 
Since 1982, H&H Medical Corporation has been dedicated to solving complex problems facing military and civilian responders. Recognized as a leading supplier of innovative pre-hospital trauma products, H&H Medical Corporation manufactures and distributes such products as the Bolin Chest Seal™, H-Bandage™ compression dressing, H&H Compressed Gauze, and Emergency Cricothyrotomy Kit. For more information, visit us at http://www.gohandh.com.