Considerations for safer ECMO and critical care transport
This new solution helps keep EMS providers' sickest patients protected in transit
---
By EMS1 BrandFocus Staff
The average lifespan has increased as a result of medical advancements. More lives are being saved than ever due to the improved medical abilities and technology that are now available at specialized healthcare centers. In order to have access to this improved care, patients must be moved from one facility to another.
Among the challenges faced by these critical care transport teams is the ever-growing number of life-sustaining devices that must accompany the patient from the referring hospital to the receiving one. At one time, straps were used to secure devices like ventilators, IV pumps, monitors, and ECMO (extracorporeal membrane oxygenation) to the stretcher or squad bench.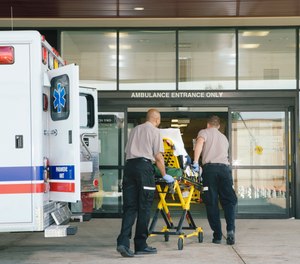 Tangled or disconnected lines, monitoring equipment hidden from view, the risk of equipment falling on crew members or patients, or even becoming projectiles in motor vehicles or aviation accidents are just a few of the drawbacks and potentially fatal hazards associated with this method of operation.
Managing a patient on ECMO requires numerous experts who are prepared for any number of equipment complications during transport. Even among the most skilled teams in the industry, unforeseen problems may occur. Despite the astounding rate of medical technological advancement, critical care transport teams still encounter difficulties in the field or when ensuring patient transfer to specialized facilities.
To mitigate any hurdles and ensure that optimal patient care is provided, critical care teams must do everything they can to safely secure the device, along with every other device used at any given time. This can be accomplished by using the Xtension Pro Assistant-CCT (XTPA-CCT) by Technimount EMS.
Designed to install and transport multiple medical devices including an ECMO device on a stretcher, the XTPA-CCT helps ensure that all devices can be easily accessed within the confines of an ambulance space. This solution provides critical care teams with the confidence that, should a problem arise during transport, they can continue to ensure patient safety.
WHAT CONCERNS CAREGIVERS?
Technimount's team worked closely with critical care transport professionals to identify the key characteristics a mounting solution would need for their type of specialized care. The biggest considerations those frontline providers identified were efficiency, safety and accessibility. A device had to be quick and easy to use, keep multiple essential items in place and still provide fast, full access to patients.
"Right now, for critical care transport on a wheeled stretcher, there's no solution that complies with all the standards for security in crashes – this is a breakthrough development," said Lorena Ruelas, global marketing director at Technimount EMS. "We've seen an increasing demand for transporting more equipment on the stretcher. Until now no one has developed a solution entirely dedicated to ECMO and critical care transport. It's an entirely new product for our product line evolution."
The XTPA-CCT was accordingly designed to contain equipment like ECMO devices, monitors, defibrillators, ventilators, IV pumps and more within the footprint of a standard ambulance stretcher. It's a fully configurable system that accommodates service-specific needs and easy change-out of devices.
An ergonomic gliding system allows lateral movement of the patient while items remain installed. It's crash-tested in compliance with SAE International's J3043 recommendation for ambulance equipment mounting devices and systems.
BENEFITS CAN CHANGE THE LANDSCAPE
For critical care transport professionals, the XTPA-CCT offers four landscape-changing benefits:
Improved safety – As prehospital and interhospital care have grown more complex, systems have added capabilities and brought more equipment to the field – but without corresponding changes in ambulance design that provide them with designated places to put it. Meanwhile, per the National Highway Traffic Safety Administration, U.S. ambulances are in 4,500 crashes a year. Besides securing devices in a collision or sudden stop, the XTPA-CCT negates the need to stack them or improvise placement alongside the patient or between their legs. The streamlined setup also reduces the risk of caregivers accidentally tripping on cables and bumping or unplugging equipment. "Most of these devices are life-sustaining," said Ruelas. "You don't want them to unplug or to stop having access to monitors and controls."
Accessibility – The XTPA-CCT easily retracts, facilitating the lateral movement of patients on and off the stretcher. "Some solutions don't necessarily allow a lateral patient transfer and an easy mobility of the structure," said Lejla Zenicanin, marketing coordinator at Technimount EMS. "[Users] must remove all the medical devices to do the transfer. Our solution enables users to easily extend the bridge structure for lateral patient transfer while the medical devices remain installed.''
Customizability – The XTPA-CCT integrates with a full range of medical equipment, including ECMO devices, systems from major manufacturers and everything hospital-based providers may need to work with critical care transport teams. Pre-existing setups for certain protocols as well as hospital equipment an agency has access to can all be integrated with the XTPA-CCT.
Space efficiency – Keeping all devices on a single structure and within the stretcher's footprint maximizes surrounding space for providers' treatment and functioning within the tight quarters of the patient compartment. When critically ill or injured patients may require numerous devices, using the XTPA-CCT gives care providers the confidence that all medical devices are well secured and allows them to fully concentrate on patient care.
MAKE MOVES SAFER FOR CRITICAL PATIENTS
Important as they are, critical care transport teams have often had to make do with what they had: equipment designed for hospital or standard EMS use, adapted to the complex needs of their most critical patients. In the ambulance that meant haphazard stacking and makeshift arrangements that sacrificed safety and simplicity to get the job done.
The XTPA-CCT represents what the providers who do the job have asked for to make it easier, improving safety and providing the flexibility to accommodate the essential equipment needed to move even the most difficult patients.
Visit Technimount EMS for more information.
Read next: Spotlight: Technimount EMS mounting systems provide stability for portable medical devices

Request information from Technimount E.M.S.
Thank You!