Spotlight: MP Cloud Technologies, the industry's only fully-hosted, cloud-based software for end-to-end patient-cycle management
---
Company Name: MP Cloud Technologies
Headquarters: Austin, TX
Signature Products: EMS Management Software
Website: https://www.mptechnologies.com/
1. What was the inspiration behind starting your company?
Being EMS providers and billers ourselves, we built our software from the ground up with today's technological advancements in cloud-based systems and intelligent learning. We knew that making our software accessible anywhere, anytime with an internet connection was the only way to maximize operations and profits for our clients, and we achieved just that. Built for EMS billing professionals, by EMS professionals.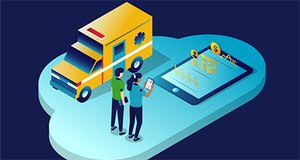 2. What is your signature product and how does it work?
AdvanceClaim: It is the industry's only 100% cloud-based claims processing software designed to maximize accuracy and efficiency by reducing redundancy and human error. We achieve this with features such as:
IntelligentEligibility- Instantly verify existing patient insurance prior to transport by searching the region's top twenty payers, both public and private. AdvanceAuto-Coding: Trips are auto-imported into AdvanceClaim, which analyzes the NEMSIS data points upon which the coding is based and adds procedure codes for the determined level of service and mileage along with additional medical necessity items.
Fully Integrated Clearinghouse: The EMS industry's first and only fully-integrated clearinghouse, seamlessly connects you to over 200+ government and private payers. Auto-NEMSIS Import & Payment Posting: AdvanceClaim is directly integrated with the clearinghouse for streamed, real-time posting on both sides, allowing for one-click payments and automatic invoice creation.
EDI Clean-Claim Optimization: Designed to achieve a 99% clean-claim rate upon first submission, the tool optimizes clean claims, provides batch uploads and tracks rejected claims, resulting in faster payment, often in half the time.
AND MUCH MORE!
3. What makes your company unique?
We provide the industry's only fully-hosted, cloud-based software for end-to-end patient-cycle management, empowering emergency medical services (EMS) providers to reach the next level of business performance and patient care.
4. What do your customers like best about you and our products?
The fact our solutions are 100% cloud-based and device-agnostic provides an unmatched accessibility that our new customers love. We also ensure the transition to our software is as seamless as possible, assisting at every step along the way.
5. What is the most rewarding part of serving the first responder community?
With decades of experience working hands-on in the industry, we know the sacrifice that it takes to work in this field. By providing software that brings efficiency across billing, dispatch, and claims processing operations, we hope to ultimately make life better for our colleagues with a better work/life balance.