South Florida Police Dept. Enhances Security with Havis Weatherproof Docking Station
---
Havis introduces the new Weatherproof Docking Station to keep mobile workers productive in the most extreme environments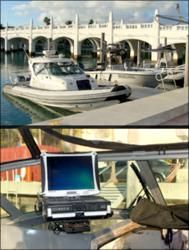 WARMINSTER, PA - On the exclusive island of Indian Creek Village in South Florida, ultra-wealthy residents, including celebrities, rely on the Indian Creek Village Public Safety Department for their personal safety and the security of their multi-million dollar homes. The community's own State of Florida sworn police force provides 24/7 armed marine patrol around the island, which has recently been enhanced by the new Havis Weatherproof Docking Station for the Panasonic Toughbook 19.
"Since our officers are on the water around the clock, we felt it was important to incorporate a laptop computer system on the vessels to facilitate the officer's ability to run record checks on vessels and their operators should the need arise," said Chief Clarke Maher of the Indian Creek Village Public Safety Department. "After purchasing our wireless laptops, it quickly became apparent that we needed some type of bracketing station to secure the laptops and provide continuous power to them. Most of the brackets were designed for vehicle interiors and not designed to meet the harsh elements of saltwater, extreme sun and the pounding that our marine units endure on a daily basis."
After installing and utilizing the Havis Weatherproof Docking Station, Chief Maher expressed his satisfaction with the product, stating that "the system has performed beyond what I personally thought it could do. I have begun to pass the information onto other marine units in our area for them to consider for their marine operations."
When working outdoors, poor weather conditions or a rugged environment can limit laptop use in the field. This new docking station allows outdoor workers access to critical software applications, regardless of physical environment, and helps them stay focused on their job.
The Havis Weatherproof Docking Station received an Ingress Protection (IP) rating to determine its ability to protect from dust and water. The docking station earned the rating IP65, which means it is "dust tight" and able to protect against jets of water from every direction, a force similar to that of heavy seas. For mobile workspaces in rugged environments, protection from salt spray, humidity, dust and particulates is critical in preventing damage or corrosion to expensive electronics.
In addition to its IP rating, the Havis Weatherproof Dock has been tested to the industry's toughest standards, withstanding vibration and impact testing, thermal testing, and a 30 mph crash test.
From desert to ocean, the Havis Weatherproof Docking Station protects and supports the Panasonic Toughbook 19 in a variety of applications, including marine patrol, mining, forestry, and weather research. For more information on the Havis Weatherproof Docking Station, please visit /weatherproof.havis.com.
About Havis
Havis Inc. is a privately held company that manufactures in-vehicle mobile office solutions for public safety, public works, government agencies and mobile professionals. For over 80 years, the Havis mission has been to increase mobile worker productivity with industry-leading products that are built to the highest safety and quality standards and are designed with comfort in mind. Headquartered in Warminster, Pa., with an additional location in Plymouth, Mich., Havis currently employs 175 people. For more information on Havis, please call 1-800-524-9900 or visit www.havis.com.