10 things you need to know to save lives (eBook)
Prepare yourself to provide fast and appropriate patient care with the critical knowledge and strategies in this guide
---
Sponsored by Pulsara
By EMS1 BrandFocus Staff
Ongoing preparation and training are vital in any industry, but especially in EMS. Every second counts in the prehospital environment, and it's critical that EMS providers stay on top of the latest skills and strategies for saving lives.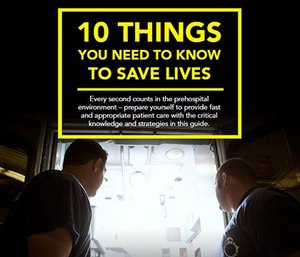 This e-book provides 10 things you need to know about four of the most time-sensitive calls you're likely to face in the field: 
STEMI
Stroke
Sepsis  
Trauma 
Fill out the form below for your free download to learn about the importance of recognizing subtle symptoms, choosing the appropriate intervention, identifying the best destination facility for each case and more.