10 things you need to consider when it comes to your EMS station
Be sure to include ample space for sleep, fitness and other critical activities whether you are making improvements or building a new facility
---
Sponsored by Pulsara
By Rachel Zoch, EMS1 BrandFocus Staff
An EMS station needs to provide the comforts of home as well as the tools for work, from restful sleeping quarters to office space and equipment storage. Energy efficiency and safety should also be top of mind, whether you are making improvements to your current station or building a new facility.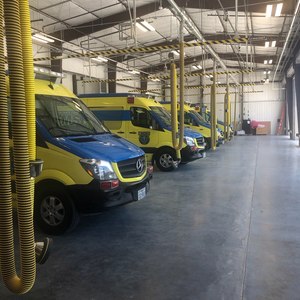 To find out more about the elements needed for a modern station, EMS1 spoke with Austin-Travis County (Texas) EMS Chief Ernesto Rodriguez, who recently oversaw the design and construction of a new EMS station for his agency.
Here are 10 things to consider when upgrading your existing station or planning a new one:
1. Provide spaces to promote rest with individual dorms, safe sleep room 
Traditionally, stations have had communal dormitories where everyone sleeps. Given different sleep schedules and habits – and snoring – those days are gone, and individual rooms are a must, says Rodriguez. This allows each crew member more control over their environment for better sleep.
"One of the things that oftentimes happens is the war of the air conditioner," he said, "so we're putting in smaller, independent heating and cooling units. That way, individuals can come in and adjust their temperature so they can sleep more comfortably."
This also saves money because those units can be turned off when not in use.
Quality sleep and rest are a challenge for any EMS agency, and poor sleep can be a safety hazard. To address this, Austin EMS has also added safe sleep rooms to several of its stations.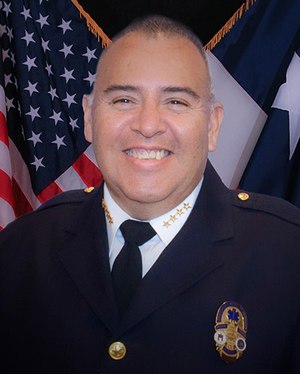 "Sometimes a person may get up at the end of their shift and decide that they're not ready to drive home and would prefer to sleep some more," said Rodriguez. "That's hard to do in a busy working station, so we've supplied several of our stations with sleep rooms. We provide a bed, linens and separate lighting for that space, and we painted them a blue color to make it a little bit more relaxing."
2. Look for energy efficiency when choosing appliances
The city of Austin requires new construction to meet certain environmental targets under the LEED green building standards. Check with the planning authorities in your area to make sure you choose wiring, appliances and other fixtures that will comply with local regulations.
"We have to buy appliances that are compliant with LEED requirements," said Rodriguez, "so we're using, for example, washers that use less water and don't require as much detergent. We're using dryers that are more economical on electricity, or that use natural gas."
Safety is also a critical factor. Rodriguez says their newest station features independent circuits that are easy to find in the circuit box so they can isolate each space as needed. Like the sleeping quarters, the utility area has its own heating and cooling so they can turn off the climate control for that space when it's not in use, or isolate the area during maintenance.
3. Carve out specific spaces for specific uses
Of course any EMS station needs adequate sleeping quarters, bathroom facilities and locker/changing rooms for both men and women – but consider what other activities happen at your station that you may not currently have a specific place for.
"What happens when someone knocks on your door and they've been involved in an accident or something, and they're all bloody and you've got to take care of them?" said Rodriguez.
Their newest station includes a small examination room right inside the front door. With this triage room, medics can assess and even treat a walk-in patient in a dedicated space separate from the living quarters, providing privacy for both the patient and the crew on duty.
You also need space to take care of business, such as filing medical records, studying or training. A dedicated area can also be useful during shift change, adds Rodriguez, because that involves a unique set of activities while regular station business has to go on.
"When our personnel are coming in and checking their medications and their logs, going through the inventory and all of that, they've got a space where they can put their things," he said. "They've got a space where they can talk as loudly as necessary or do whatever they need to do, and it doesn't disturb anybody else who's in the station."
4. Reconsider your alarms and lighting, especially at night
There's nothing like having a nice long evening without a call, then all of a sudden getting scared to death by your alarm system, says Rodriguez. So Austin-Travis County EMS is considering alarms that start at a low volume that increases gradually.
Their newest station features an alarm that provides audiovisual messaging from dispatch, giving verbal instructions as well as a screen readout. The text on the screens is red to avoid sudden, harsh light, and that same effect is applied in the engine bay at night to work with, not against, the responders' vision as they adjust from darkness to light.
"As you get into your vehicle and exit the building into the dark, your eyesight is better adjusted," said Rodriguez. "You're not blinded as you're pulling out of the station, which reduces the chances of not seeing something and running over someone or something because your eyesight isn't adjusted to the darkness."
5. Make physical fitness a priority
Another special space your station should include is a place for providers to exercise. Consider the specific workouts and equipment your providers are most likely to need and use. Where a firefighter might need to lift heavy weights, an EMS provider may be better served by a rowing machine, says Rodriguez.
"All of our new stations have space for some workout equipment," he said. "Our latest station has a separate workout area that's equipped with the gear that you would need. It has a glass overhead garage door on one side of it that opens onto artificial turf, so you can walk in and out of the workout space and still be in a workout zone inside or outside, depending on what kind of workout you want to do and the temperature."
This extra step brings fresh air and sunshine, which have been linked to health benefits and stress reduction, right into the crew quarters to help boost wellness and morale.
6. Plan ahead for your power needs
Be sure to include sufficient wiring and docking stations to handle all the equipment and devices your crews need, both now and in the future. Take an inventory of your current equipment and personnel to account for the number of USB connections and power sources you'll need for smartphones, tablets, etc., and include these outlets in your dormitories, as well as office workstations and storage areas.
But your power needs tomorrow will likely be greater than your power needs today. Plan ahead and include infrastructure that can accommodate growth.
"We've got additional wiring if we need to expand any of those spaces," said Rodriguez. "We have easy access to the wiring so that we can plug in additional wires and expand our network if we need to."
It's also important to build in backups and fail-safes, like solar panels or a backup generator, and to test them regularly.
"Each of our stations is equipped with a generator. As soon as it senses that there's a power loss, the generator comes on and provides power to the station," he said. "They run on separate fuel, and we test them every month. If we had a major power loss, our emergency stations would still be functional."
7. Design ambulance bay doors for safety and speed
With recent advances in garage door technology, there are plenty of options to help boost speed and safety, from smart sensors to automatic doors that sync to alarms.
Austin-Travis County EMS doesn't use automatic doors or sensors, but they did make sure to place control buttons in each doorway from the station into the apparatus bay for easy access.
In its newer stations, the agency installed accordion-fold doors that open laterally when activated by a crew member. The door is suspended on a rail system along the top of the doorway, with the motor on the side. Because pulling to the side takes less energy than pulling an overhead door up against gravity, Rodriguez says they expect the motors to last longer.
Another benefit of the side-folding door is that there is nothing overhead that might fall on a person or ambulance – or block the doorway and cause a delay.
The agency also added elements to enhance visibility and safety for ambulance ingress and egress.
"One of the problems that we've had in the past is some of our medics backing into a partially open overhead door. When you're looking at your mirror into the opening of a station in daylight, a lot of times all you see is a just a dark hole that you're trying to back into," said Rodriguez. "So we've lined all of our doors with high-visibility tape so that when your back-up lights come on, that entire opening looks like an aircraft landing zone and you can see all the edges of it."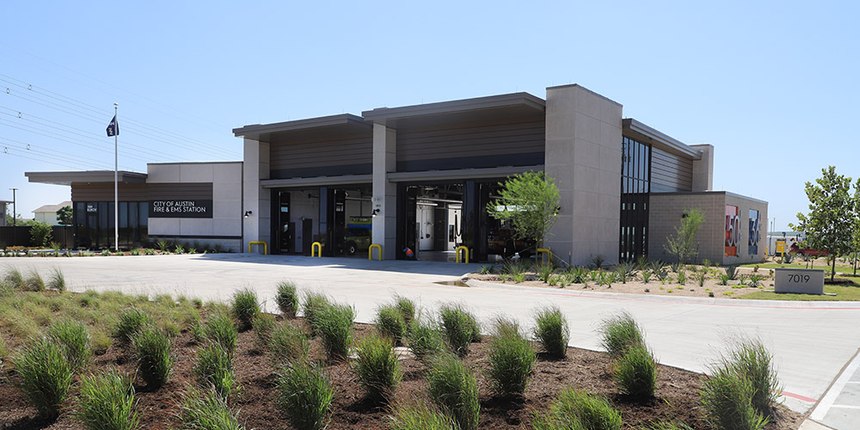 8. Ventilate the ambulance bay
It's no secret that vehicle exhaust can leave some pretty nasty particulates in your ambulance bay. Be sure to ventilate these areas in each station to protect the health of your providers.
Leaving the door open isn't enough, and it's a safety risk to leave your station unsecured. But there are a number of exhaust removal systems available to help pump out the particulates.
Austin-Travis County uses a system with a hose hooked up to each vehicle using a magnetized connection. The system draws out the exhaust with fans and pumps it through a filter before releasing it out into the environment.
"That has been probably the best thing that we've done," said Rodriguez, "because all our vehicles are diesel, and diesel puts out stuff that coats the walls and everything."
9. Build in disinfection capabilities
COVID-19 has made infection prevention more important than ever. What are you doing to sanitize your facilities? EMS agencies across the country are applying a number of strategies, from frequent cleaning with appropriate disinfectants to UV appliances or HVAC filtering systems.
"We've had the capability of disinfecting stations with portable equipment for quite a few years, but now we're looking at systems that actually are built into the stations," said Rodriguez. "We really never thought about having to have passive disinfection systems installed in stations before, but now the pandemic has opened our eyes to the way that diseases spread and about different tools that we can use."
UV has become a popular approach, and the new Austin-Travis County EMS station is equipped with a UV system that filters and cleans the air. Rodriguez says the agency is considering additional options, both to retrofit older stations and to build into new stations.
10. Provide secure drug storage & inventory management
Inventory management, especially when it comes to controlled substances like narcotics, is a critical function for any EMS facility. It's important to provide secure storage for drugs and equipment, as well as a way to track their use. Available solutions range from a locked closet with a paper log to a vending machine-style system to barcodes or RFID tags.
Austin-Travis County EMS has been using a paper log and the honor system, says Rodriguez, but he admits there are imperfections in the manual system, especially when medics rushing to a call might not have time to log the supplies they grab.
The agency has been testing an RFID system – radio-frequency identification tags – to help with inventory management. RFID tags or smart labels are affixed to each item at the central warehouse, logged in a database and captured by a reader via radio waves (as opposed to scanned like a barcode) when they are sent to stations, and read again when they are pulled for use on an ambulance.
"We're trying to make it as automatic as possible so that it requires the least amount of human interface," said Rodriguez, "and so it will help us track everything."
A little something extra 
Beyond the key elements listed above, you can add a little something extra to make the station more homey if your budget allows. Rodriguez credits the agency's leadership with making sure crews have a say in station design.
"Our division chief, Wesley Hopkins, is passionate about station design and spends tons of time listening to our medics to get input," he said. "He is at every station build to directly oversee implementation of these cool ideas."
For example, one of the Austin-Travis County stations features an outdoor gas grill so crew members can cook outside when the weather is pleasant.
"That's just a little added feature that didn't cost too much," said Rodriguez. "It's not real fancy, but it's functional."
Your EMS providers likely spend most of their waking hours (and many sleeping hours, too!) at the station. Providing a comfortable, functional space is an important way to equip them to better serve the community.
Visit Pulsara for more information on communication technology for EMS.
Read Next: Q&A: How can EMS agencies leverage technology for growth and evolution?

Request information from Pulsara
Thank You!