Tourniquets evolve to the next level
We've come a long way from kerchiefs and a stick
---
For those who don't know yet, tourniquet use has really changed in recent years. We were once taught to use them only as a last report. We were also taught using one risks loss of the affected limb. It turns out we were wrong.
Among the highlights on the exhibit floor at EMS Today 2013 was the Ratcheting Medical Tourniquet (RMT). This highly evolved medical tourniquet uses an innovative buckle system and a well thought-out design. It is the most advanced and rugged tourniquet I've seen.
Many lessons have been learned from being at war the last 10-plus years, particularly when it comes to how to better manage trauma. One of these lessons is that tourniquets save lives and don't often cause further disability. Many on the battlefield have been saved by the early application of a tourniquet.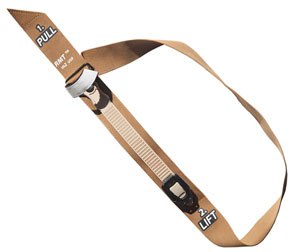 Until now, most have been versions of the ancient windlass-style tourniquet. These have not changed much since I learned how to use a kerchief and a stick in the Boy Scouts. The RMT operates in a totally different way. It uses a custom made buckle and ladder strap with "teeth" to apply dynamic pressure around the entire limb.
The RMT buckle features a two-piece mechanism. The outer frame is your tightening lever. You simply raise and lower the outer frame and, with each motion, the tourniquet gets tighter. The action uses mechanical leverage to apply incredible tension. You can even shut down blood flow on a leg with this tourniquet.
The inner portion of the buckle is the release mechanism. To use it, the receiving clinician simply pulls the inner tab up once bleeding is controlled. What I really like about it is how the release is recessed below the frame. That makes it almost impossible to accidently release pressure inadvertently.
You can hear the clicks as the buckles ratchets the strap tight. The buckle looks tough as nails. It has been tested down to 29 degrees below freezing and you can operate it with gloves on.
The RMT comes fully assembled and can be self-applied with one hand. They have a bunch of different models ranging from $35-$50. They even have a new pediatric model. For more information, check out their website. 
 

Request product info from top EMS Medical Equipment companies
Thank You!