How to buy airway management devices (eBook)
Download this EMS1 airway management devices buying guide to learn key steps for product selection, purchasing and implementation
---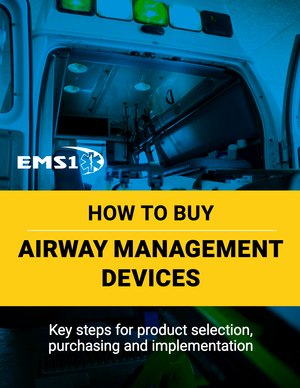 If there's anything that we – as an industry – take pride in, it's airway management. Whether it's providing effective ventilations, having high first-pass success rates for intubation or providing critical interventions to prevent deterioration, both the "A" and "B" parts of patient care are our highest priority. 
As a result, we're presented with many opportunities to effectively and efficiently manage a patient's airway, on both the BLS and ALS fronts. Whether your scope of practice allows endotracheal intubation, caps with supraglottic airway management or if the patient's needs only indicate preventative or supportive care, any search will turn up dozens of equipment and device options to manage your patient's airway. 
To lessen the burden of evaluating the options, this EMS1 guide will help you break down the many considerations, questions and perspectives related to airway management devices. Included in this guide: 
Things to consider before purchasing
Top implementation considerations
Questions to ask vendors
Company directory
To download your free copy of "How to Buy Airway Management Devices" Buying Guide from EMS1, fill out this form.