A simple solution to difficult EMS disinfection
When faced with dangerous microorganisms, St. Francis Hospital and the SDPD turned to SteraMist to save time, money and labor
---
Content provided by TOMI Environmental Solutions
Originally developed by the Defense Advanced Research Projects Agency (DARPA) to eliminate the threat of weaponized microorganisms, SteraMist disinfection technology was brought to the mainstream to combat a wide range of other bacteria, viruses, and mold. EPA registered and listed as a hospital-healthcare disinfectant, SteraMist is a proven and powerful disinfectant that is trusted by many government agencies, hospitals, emergency services and many other industries worldwide.
An established SteraMist customer, Saint Francis Hospital of Trinity Health in Wilmington, Delaware implemented SteraMist disinfection in 2017. Over the years, Saint Francis has been one of the top hospitals in keeping their Healthcare Associated Infection (HAI) rates down. With the use of SteraMist disinfection throughout their hospital, Saint Francis kept their C. difficle, MRSA and central line associated bloodstream infections at a minimum. They have incorporated SteraMist into their disinfection protocol because of its unique ability to destroy multiple bacteria, viruses and other microorganisms on surfaces and in the air with a single solution.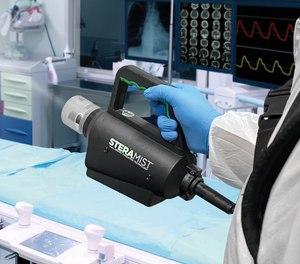 Adding SteraMist to their cleaning method and removing the need for wipe-down methods, St. Francis quickly noticed a reduction of spores and was able to gain valuable time back by turning over the room rapidly. Attributing to the quick room turnover time is that the SteraPak, a backpack SteraMist system, is easy to use and only needs one operator. Currently, SteraMist is being used for rooms that held C. diff and emerging pathogens allowing for shorter wait times between patients. Saint Francis Hospital's current daytime Supervisor states, "We really enjoy the SteraPak because it's lightweight, cordless, and one person can do the work of an entire team in less time. From start to finish, taking it out of the closet to completing the room, it only takes about 10 minutes to disinfect an entire room while still having the highest rating for reducing bloodstream infections"  
According to the Infection Prevention Director at the time, the C. difficile bacterium has a 30%-50% chance of infecting other people even after a room is cleaned. The infection prevention team targeted the stubborn spore and found the system kills bacteria and viruses on contact without leaving any residue. 
"These devices … will actually reduce the transmission of these organisms remaining on surfaces or hard to reach areas as seen with spray-and-wipe techniques," the Director wrote in a blog. "Recent evidence in Delaware hospitals has seen a marked reduction of C. diff with the use of a non-wipe, activated peroxide-based system." 
Disinfection is needed throughout all industries and facilities. Whether you need to combat C. diff in a healthcare facility or disinfect a vehicle, SteraMist is the fastest and most efficient way to eliminate microscopic threats. Not only is it perfect for disinfecting ambulances between calls, but it is also perfect for fleets of police cruisers, as well as stations and offices.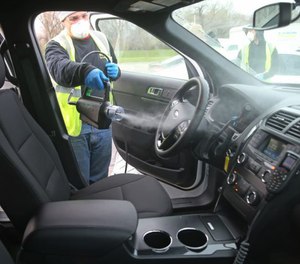 San Diego's Police Department was looking for a disinfection solution during the height of the pandemic to bring cases down and to keep their department healthy and working. In a city like San Diego, officers missing shifts for weeks at a time because of sickness is not an affordable luxury. Keeping their officers on duty and protecting their city is paramount.
After a recommendation from the San Diego Fire Department – which uses SteraMist throughout their fire house and engines – SDPD made the decision to purchase a SteraMist system for the police department. Once SteraMist was implemented, a noticeable decrease in cases and a reduction in cost was observed. With SteraMist portable products onsite, they are able to deploy disinfection easily when needed without the trouble of hiring a cleaning and disinfection company.
The department uses SteraMist in high-touch and high traffic areas inside the building, including classrooms and locker rooms, as well as other large rooms in their facility and smaller areas such as command vehicles.
"The Surface Unit is great in our larger rooms like the classrooms and locker rooms. It allows us to cover large area without having to worry about changing the battery or running out of power. The SteraPak is implemented in every small area and vehicles. We can dip into a cubicle, spray it down, and dip right out and it's quickly disinfected, ready to go after just a short time." Officer Joe Nunez states, "We originally purchased SteraMist for COVID but after we saw how well it worked and the versatility, we added it to our regular cleaning and maintenance programs to combat other germs and pathogens to prevent sicknesses."  
SteraMist disinfection can be implemented into any room with sensitive equipment, including crime labs, crime analysis, data systems, cubicles with computers and other equipment, offices, and more. SteraMist kills on contact, four times faster than any disinfectant on the market. With a low 7.8% hydrogen peroxide sole active ingredient and patented iHP process, SteraMist produces a six-log kill and leaves nothing behind. No need to wipe, mix and rinse, providing superior material compatibility.
Visit TOMI Environmental Solutions to learn more about SteraMist disinfection.

Request information from TOMI Environmental Solutions
Thank You!