PRESS RELEASE
PWW Media, Inc. announce Spring 2017 conference dates
---
MECHANICSBURG, Pa. — PWW Media, Inc, the National provider of innovative compliance solutions and education for the EMS Industry, has announced its conference dates for Spring 2017.
Among this year's planned events for EMS leaders, the abc360 conference series will take an integrated approach to ambulance revenue cycle management and compliance. This conference will explore how early problems in the cycle can create ripple effects across your agency, and provide you with the tools to address those issues.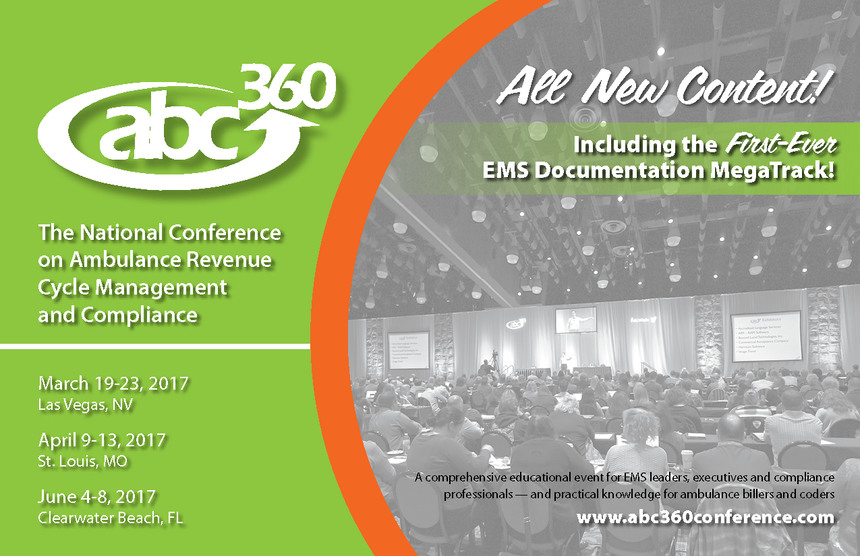 In addition, this groundbreaking conference series will offer the first-ever EMS Documentation MegaTrack- a whole half-day focused on the number one issue confronting ambulance services: improving their documentation. Other highlights include ICD-10 Coding Clinics, an up-to-the-minute Medicare and reimbursement update, discussions on top payment & compliance issues, and preparing your agency for the next wave of HIPAA enforcement.
The abc360 Conference Series is practical, applicable, and real. If your organization is looking for a big picture understanding of its entire revenue cycle and compliance, find a conference near you and Register Today.
The abc360 events feature the attorneys and consultants of Page, Wolfberg & Wirth, The National EMS Industry Law Firm®, the premiere speakers and educators in the EMS industry, to bring you top-notch, timely educational events. And all our events are certified for continuing education through NAAC®, the Industry's gold standard of excellence in compliance ethics and integrity in all facets of ambulance coding and compliance.
Spring 2017 Conference Dates:
abc360: The National Conference on Ambulance Revenue Cycle Management and Compliance 
Las Vegas: March 22-23 
St. Louis: April 12-13 
Clearwater Beach: June 7-8
XI: The PWW Executive Institute -  A Can't Miss Event for Top Level EMS Decision makers 
Las Vegas: March 21 
St. Louis: April 11 
Clearwater Beach: June 6
CAC: The National Standard for Ambulance Billing and Coding Education 
Las Vegas: March 19-21 
St. Louis: April 9-11 
Clearwater Beach: June 4-6
CACO: The Only Ambulance Compliance Officer Certification in the Nation 
Las Vegas: March 19-20 
St. Louis: April 9-10 
Clearwater Beach: June 4-5
CAPO: The Nation's First and Only HIPAA Compliance Certification for the ambulance industry! 
Las Vegas: March 19-20 
St. Louis: April 9-10 
Clearwater Beach: June 4-5
Visit www.abc360conference.com for all Spring 2017 conference dates, info, and links to registration.
About PWW Media, Inc.
PWW Media provides innovative compliance solutions for the EMS industry.  PWW Media works with the nation's top EMS industry experts to develop, create, and produce the most effective compliance tools and education for the EMS industry. We offer a comprehensive suite of products including our widely-used publications, training videos and industry-leading conferences and educational events.  For more information about PWW Media's services and products as well as the upcoming XI and abc360 conferences go to: www.pwwmedia.com.

Request more info from Page, Wolfberg & Wirth
Thank You!