PRESS RELEASE
Page, Wolfberg & Wirth names new partners
---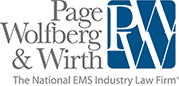 MECHANICSBURG, Pa. — Page, Wolfberg & Wirth ("PWW"), the Nation's leading EMS industry law firm has named Daniel J. Pedersen and Ryan S. Stark as partners in the practice.
Mr. Stark and Mr. Pedersen became partners on September 1, 2018 and have assumed additional management and planning responsibilities within the firm. PWW Founding Partner, Doug Wolfberg says, "Dan and Ryan have each been with the firm for over a decade and are well known to our clients throughout the country."
Dan Pedersen has been with the firm since 2004 and concentrates his legal practice in the areas of compliance, Medicare audits and reimbursement. He spends much of his time performing compliance and claim reviews, including on-site visits and training sessions and handling Medicare appeals on behalf of clients around the country. "I find the practice of EMS law entertaining, rewarding and enjoyable so I'm excited about the opportunity to take on a larger role in the firm that's been my home for the last 14 years," says Pedersen.
Ryan Stark joined the firm in 2007 and has become PWW's HIPAA expert. He counsels clients on privacy and security concerns as well as other compliance matters and labor relations. Mr. Stark co-authored the Ambulance Service Guide to HIPAA Compliance and is featured in the only EMS-specific HIPAA training video, HIPAA TV 2.0. "I've always been humbled to serve an industry that serves others and am elated to have the opportunity to help lead PWW as we look to the future," remarks Stark.
PWW also announced that Christie M. Mellott has been promoted to Of Counsel. Ms. Mellott joined the firm shortly after it began in 2000 and counsels clients on Medicare Provider Enrollment, employment, contracting, workplace safety and administrative law issues.

"Even though we are entering a new phase for PWW, some things aren't changing- including the PWW name and the industry-focused, high-quality legal advice, consulting expertise and practical information that has made us the industry's leading EMS law firm for nearly 20 years," explains PWW Founding Partner Steve Wirth. "We aren't going anywhere," adds Wolfberg, "we're simply adding to our bench strength to help led us into a new era as we continue our decades of service to the EMS community." Both Doug Wolfberg and Steve Wirth will continue practicing law full time and speaking at PWW conferences and other EMS industry seminars.
About Page, Wolfberg & Wirth
Page, Wolfberg & Wirth, LLC is the nation's leading EMS industry law firm. PWW helps EMS agencies and billing companies with reimbursement, compliance, HR, privacy and business issues, and provides training on documentation, liability, leadership, HIPAA, Medicare compliance and more. For more information about PWW's services go to: www.pwwemslaw.com

Request more info from Page, Wolfberg & Wirth
Thank You!