Crestline's 2018 ambulance product showcase
---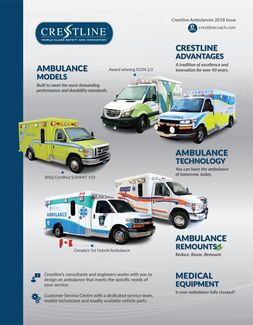 SASKATOON, Canada — Crestline Coach, a global leader in ambulance and specialty vehicle manufacturing, released its annual product showcase ebook. The downloadable ebook provides an inside look into how Crestline product is manufactured to be the safest and most durable product in the marketplace. Readers will also learn how Crestline is continuing advances in ambulance safety and patient care through unparalleled designs and industry firsts.
"At Crestline, we combine the ingenuity and craftsmanship of our talented staff with the latest in manufacturing automation, tools and processes to produce and deliver a superior product. Our manufacturing and support teams are laser focused on delivering the highest quality product, on time and at the lowest possible cost, providing exceptional value to our customers."
Richard Valenti, Vice President Operations
Click here to download Crestline's 2018 Ambulance Product eBook.
To learn more about Crestline, visit www.crestlinecoach.com or follow them on Facebook, Twitter, LinkedIn or YouTube.
About Crestline Coach
Crestline Coach Ltd. is a global leader in ambulance and specialty vehicle manufacturing and a Canadian supplier of small to mid-sized buses. With safety, innovation and durability always at the forefront of their business, Crestline exceeds and inspires today's industry standards. Exporting to more than 32 countries globally, Crestline offers the widest range of world class and innovative vehicle solutions in the industry, meeting all safety, quality and performance standards.

Request more product info from Crestline Coach Ltd
Thank You!