Proactive EMS approaches to opioid response (eBook)
Download this free eBook to learn what steps your agency can take to fight the opioid abuse epidemic
---
Sponsored by Bound Tree Medical
This article was originally posted here on Bound Tree University.
There is no end in sight to the worsening opioid overdose epidemic. For consecutive years, opioid overdoses have killed more people than motor vehicle collisions in the United States.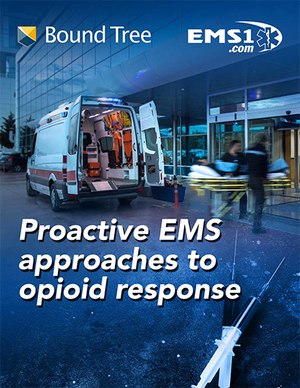 EMS, fire and police departments everywhere are reporting increased responses to overdoses. As the number of responses and associated costs increases, public safety leaders, elected officials, healthcare provider groups and field providers are questioning the current response to the epidemic, how to stem the rising death toll, how to manage the spiraling costs and how to reduce future overdose deaths.
In this eBook, you will learn:
How four paramedic chiefs are using data to fight the opioid epidemic in their communities.
How you can start a naloxone distribution program in your community.
How to train medics to identify opioid overdose and treat appropriately.
How to find funding for your agency's opioid response efforts.
Fill out the form below for your free eBook: