Portland medic struck with 'wrist rocket' projectile
Police say a suspect launched the metal ball bearing using a slingshot-type device and was armed with a crowbar, a knife, flares and possible pyrotechnics
---
By Laura French
PORTLAND — A Portland Fire and Rescue medic was struck with a metal ball bearing shot from a "wrist rocket" slingshot device during a demonstration on Monday morning.
The Portland Police Department said in a news release that the projectile, which was approximately one centimeter in diameter, hit the medic on the side of the chest, causing bruising. The medic was wearing a Portland Fire and Rescue uniform and a vest with the word "Medic" written in large letters on the back at the time of the incident, police said.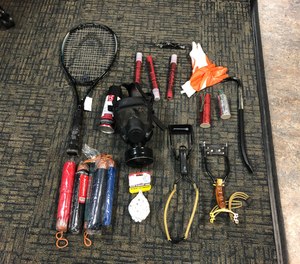 Jesse Herman Bates, 37, was arrested in the case and charged with assault III, assaulting a public safety officer, interfering with a police officer, carrying a concealed weapon and disorderly conduct II. Officials say officers "strategically arrested" Bates about two hours after the incident. Bates reportedly fled from officers on foot while wielding a crowbar and was taken into custody using "less-lethal force," according to the news release. 
Police say they seized the crowbar, two slingshots and glass slingshot ammunition, a switchblade knife, a gas mask, flares, several umbrellas, spray paint and items suspected to be pryotechnics from the suspect after his arrest. The photo released of the items also appears to show a pair of gloves and a tennis racket.