EMT suspended, accused of punching trauma patient in ambulance
Kendal Evan Billings was arrested in December and charged with aggravated battery after allegedly striking a combative patient "multiple times"
---
Austin L. Miller
Ocala Star-Banner, Fla.
OCALA, Fla. — The Florida Department of Health has suspended the certifications of an emergency medical technician/paramedic accused of assaulting a patient in an ambulance bound for the Ocala Regional Medical Center.
Michele Tallent, Deputy Secretary for Operations for the department, ordered the emergency suspension of the certifications of Kendal Evan Billings, 26, on March 8.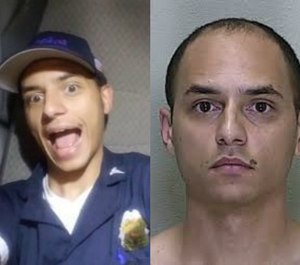 On Dec. 9, 2018, Terrence Dolan, 60, of Dunnellon, crashed his motorcycle in Crystal River. Billings, a Dunedin resident, was on board a Nature Coast EMS ambulance that arrived to provide first aid. Nature Coast EMS is based in Citrus County.
Later, Ocala Police Department Officer Trey Roberson was called to ORMC to investigate a battery inside an ambulance that had arrived at the facility, according to an OPD arrest report.
Joseph Annilto, a Nature Coast EMS student who was riding in the ambulance, told the officer they were transporting Dolan from the motorcycle crash to the hospital. Dolan had a head injury and was described as being "very uncooperative," which is common for someone suffering from head trauma, according to the report.
Dolan was so agitated crew members had to "restrain him with arm and leg restraints for fear he might hurt someone," the report states.
Annilto said he and Billings, who was the on-duty paramedic, tried to control Dolan. Annilto said Dolan kicked Billings in the face and that Billings "began to strike Dolan in the face multiple times," according to the report. He said Dolan "lost consciousness after Billings struck him five or six times with a closed fist."
Dolan began bleeding from his head wound, the report notes.
Annilto said he called his supervisor about the incident "because he knew it was wrong."
Zadee Cespedes, the ambulance driver, told the officer he heard a commotion in the back of the vehicle and saw Billings "make a punching motion towards Dolan" but "was unable to see if the punches made contact with Dolan's body." Cespedes said he did not see the victim kick Billings but that Dolan was "very combative."
Officer Roberson interviewed Dolan at the hospital. Dolan said he did not remember the crash or the ambulance ride to the hospital.
The officer noted in his report that Dolan had "road rash" all over his body, a head wound and other injuries, including broken ribs. He wrote that it was hard to determine if any of the injuries came from Billings hitting Dolan in the face.
The officer also interviewed Billings, who said Dolan was "combative" while being transported to the hospital. He said it was a common problem with people with brain injuries.
He said when he tried to restrain Dolan, he was kicked in the face by the patient. He said restraining Dolan was not working and "he had to get a little more aggressive," the report states.
Billings at first denied hitting Dolan, then later told Roberson that he "lost his cool because Dolan was threatening him." He said he punched Dolan "a couple of times to subdue him." Billings said he was aiming for the man's chest and may have hit him in the face. He said the punches were in self-defense and he "wasn't thinking," according to the report.
The officer noted that Billings' knuckles did not have any scrapes or cuts on them.
Billings was arrested at ORMC at 2:01 a.m. Dec. 9 and was booked at the Marion County Jail on a charge of aggravated battery. He was released from the jail at 1:02 p.m. in lieu of $5,000 bail.
According to the Department of Health order, during the transport to ORMC, "patient T.D. became combative, spat on Mr. Billings, and kicked him. Mr. Billings repeatedly struck Patient T.D. on the head with closed fists."
The order indicates that, while Billings was striking Dolan, he lost consciousness and the laceration on the back of his head, where the bleeding was previously controlled, "began to bleed profusely on the ambulance floor."
"Mr. Billings partner noticed that Mr. Billings was in an angry daze after he struck Patient T.D. Once Patient T.D. regained consciousness, he asked why he was bleeding. Mr. Billings informed Patient T.D. that he was involved in an accident. Patient T.D. responded, "No, you punched me," the order states.
After the ambulance arrived at ORMC, the student and driver reported Billings' actions to hospital staff and also to Nature Coast EMS. Staffers with that agency contacted the OPD, the order notes.
The order signed by Tallent says Billings engaged in unprofessional conduct by hitting a patient and violated Section 401.411(1)(g), Florida Statutes (2018).
"Mr. Billings' continued practice as an EMT and PMD constitutes an immediate, serious danger to the health, safety, or welfare of the citizens of the State of Florida," Tallent said in the document.
———
©2019 the Ocala Star-Banner (Ocala, Fla.)
McClatchy-Tribune News Service