How RAA launched a peer support program
Resiliency training and a CISM program laid a foundation for the Richmond Ambulance Authority to support its providers' mental health
---
In the first installment of the EMS Burnout Repair Kit series, presented by EMS1 and Zoll, Allina Health EMS' Nicole Holm, Richmond Ambulance Authority's Rebecca Szeles, and Harris County ESD 11 Mobile Healthcare's Xavier De La Rosa and Sean Simmonds offer insights into how best to utilize EAPs, EMS chaplaincy and peer support teams to improve mental health and wellness. Watch now.
By Rebecca Szeles
In 2018, the Richmond Ambulance Authority (RAA) launched a Peer Support Program to support the mental health and wellbeing of its employees, designed to help paramedics, EMTs and communications staff deal with the day-to-day stresses of the job. [At the end of this article, download a copy of RAA's Peer Support Ethics Contract]
Richmond Ambulance Authority has had a Critical Incident Stress Management (CISM) team in place for years to help employees who experienced a traumatic event (e.g., a mass casualty incident, a line of duty death or a pediatric death). While CISM has been an important program and helped some of RAA's staff, there was a realization that a greater need among employees wasn't being met.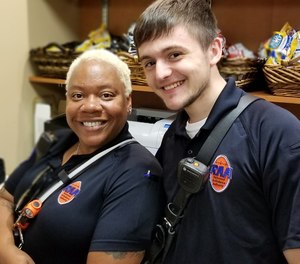 During my 12 years with the RAA, I have served in our Logistics Department, cleaning and restocking trucks, as a medic on the streets, and am now a communications supervisor. I have seen the toll these jobs have taken on my coworkers, organization-wide. I joined the Wellness Committee in 2010, and advocated for focusing on mental health in addition to physical health. While we created some initiatives to address mental health, they weren't enough.
Organizing Peer Support from CISM
In 2017, we invited Jim Marshall from the 911-Training Institute to speak to our Communications Center about resiliency. It was a success! Our communications officers that took the class still use techniques today to deal with the stress of daily work.
It still wasn't enough. I had only helped 18 employees. I knew many of the over 200 other employees at RAA needed more. I attended a 3-day CISM course along with four other employees, doubling our program by June of 2018. We were helping more employees, but it still wasn't enough.
In CISM debriefings, I heard the same comments over and over from employees. "It's hard to talk to supervisors. We don't want to appear weak." Clarity was like a bucket of cold water over my head. We needed peer-to-peer interactions with peers trained to help each other through the tough days. We needed peer support!
Selecting and training Peer Support team members
We called in Jim Hyde, an expert from Peer Support Central. He provided a two-day train-the-trainer course for myself and four others that I handpicked based on my interactions with them and their previous teaching experience. This became our steering committee. We developed a two-day course that would train our peer support providers in:
How to help
When to provide additional resources
We developed a 5-question survey and distributed it on two different occasions to all Operations employees. Any employee that was interested in the Peer Support Program would fill out the survey and return it for review by the steering committee. The strongest candidates were selected and trained.
We're in the midst of changing our process for selecting peers as awareness for the PSP has grown. Our next round will consist of nominations from the employees themselves. Who do they trust and confide in?
---

Watch for more
View on-demand: How to create a mental health-friendly environment at your service
Learn how mental health support programs can alleviate stress in the workplace
---
How RAA overcame Peer Support hurdles
When building the program, we focused on peer privacy. We developed an Ethics Code and Program Scope, similar to our CISM program. We have a peer on call 24/7, but instead of using company phones, we have a single Google voice number that is not tracked by RAA (we do the same for the CISM on call numbers).
Our peers fill out a Google document survey after each contact, but do not report any identifying information. The only information that is reported is the number of contacts and type of contact (e.g., CISM follow-up, work-related issue, family, daily stress). This process gives our peers a limited amount of autonomy to get the job done, and has increased the providers' trust in the system exponentially.
Our Peer Support Program has been active since December of 2018, and 10% of our providers have already benefited from its use. One of our biggest hurdles has been awareness. Most of our providers did not know what a PSP was. We have spread awareness of our Peer Support Program by:
Holding peer-hosted meet-and-greet breakfasts for both day and night shifts (with other activities planned for the future)
Developing a video and posters to increase internal and external awareness
Supplying the peers with business cards
We're not done yet! We still have a cultural stigma about asking for help. Continuing education is the key. We are developing an eight-hour, mandatory resiliency course for our providers. This course will teach providers about mental health, what we are up against and how we can overcome. It will be taught by the Peer Support peers. By empowering our employees and giving them tools to succeed, we can improve their overall health and effectiveness as EMS employees.
This article was originally posted May 21, 2019. It has been updated.
Fill out the form below to download your copy of the Richmond Ambulance Authority's Peer Support Ethics Contract.
RAA Peer Support Ethics Contract