Roadside safety training video wins award
MONOC video raises awareness of the dangers of helping others on roadways and importance of high-visibility safety apparel
---
WALL, N.J. — MONOC won an EMS 10 innovation award for its safety training video about the importance of wearing high-visibility clothing and the dangers of working on the roadside.
The video can be viewed below and downloaded at no cost from MONOC's website.
The EMS 10 award recognized MONOC vice president Scott Matin and corporate director Peter Dworsky Matin for production and distribution of a free public safety announcement video for first responders entitled "High Visibility Safety Vests: Be Safe Be Seen." The video explains the importance of wearing high visibility safety vests whenever working on roadways, and how it can save lives.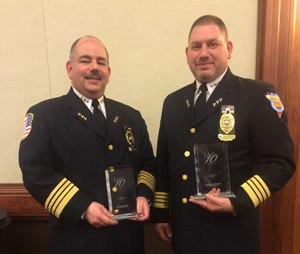 "We are very pleased to have our efforts in the field of EMS safety recognized by our peers," said Dworsky
"This safety initiative raises the awareness of and helps further protect EMS providers at motor vehicle collisions."