Therapy dog joins Israel EMS organization
Lucy is part of the psychotrauma unit, which responds to traumatic scenes to provide psychological and emotional first aid
---
United Hatzalah
JERUSALEM — Israel's EMS Psychotrauma Unit welcomed its newest four-legged member this week. 
Lucy got her paws wet while responding with her handler Batya Jaffe to a building fire Sunday, where an older man was critically injured when his apartment caught fire. In addition to other members who provided treatment for those affected by the fire, Lucy was on hand to help patients calm down, recover and cope with the incident.
 
The psychotrauma unit is tasked with responding to traumatic scenes that take place at or in the aftermath of medical emergencies and provides psychological and emotional first aid for the people affected by the emergency. These people can be the patients themselves, their family members, neighbors or even passersby who happened to witness the scene and were traumatized by what they saw and experienced.
 
"We have gone on a lot of calls over the past year that the unit has been in operation and while we have been able to treat people successfully, we have noticed that in certain cases people need help at the onset of the treatment to allow us to help stabilize them," Miriam Ballin, director of the psychotrauma unit, said.
 
Lucy is deployed at scenes of major traumas where many people are involved.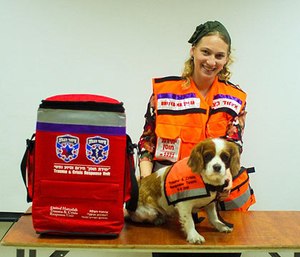 "Lucy can help distract people from the trauma that they are witnessing, and focus on something else. By her being on scene, she allows those who are suffering emotionally from the trauma to connect to something real by touch or even just by seeing her with her vest on," Ballin said. "Lucy allows people to connect back to reality in a non-threatening manner."   
 
Jaffe is Lucy's owner as well as her handler. Both Jaffe and Lucy underwent training to allow Lucy to become a therapy dog. Jaffe continued her studies and took an intensive three-year course that now enables her to train others to become therapy dogs and therapy dog handlers.
 
"One of the basic rules we learned in animal therapy, is that animals don't judge people. While some patients may be hesitant to talk with people, even therapists from our unit, that same hesitancy does not exist with Lucy," Jaffe said.