New seat belts allow medics to tend to patients, stay safe
Too many medics don't use seat belts because they interfere with patient care, but one company is working to change that
---
Sponsored by REV Group
By Shawna Renga for EMS1 BrandFocus
 "It's impossible to do good patient care and be restrained," said Brian Nagle, an EMS provider who was involved in a head-on ambulance collision in 2014.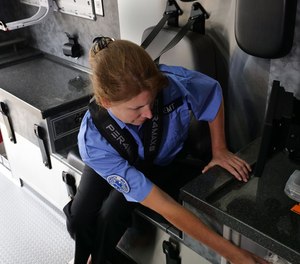 Nagle was unrestrained on the bench seat of the ambulance, providing care to a patient, when the crash occurred. His injuries were severe, and they ended his career as a first responder.
Nagle, who now works to promote safety in EMS, explains, "We can't save patients if we're not safe ourselves."
Patient care vs. provider safety
It is a common refrain among EMTs and paramedics. The priority for providers is excellent patient care, and that level of care is difficult to maintain when you are unable to reach your patient.
Everyone is aware of the dangers of not wearing a seat belt, but anyone who has worked in the back of an ambulance is familiar with the challenges of providing patient care while restrained in traditional six-point systems. The distance between the provider and the patient, even in the narrowest ambulance, prohibits the provider from effectively reaching the patient while wearing a traditional seat belt.
According to NHTSA, 84% of EMS providers do not wear a seat belt because it interferes with their ability to do their job delivering patient care.
However, the dangers of remaining unrestrained are significant and well documented. The moments during transport, while the ambulance is running with lights and sirens and the providers in the back are often unrestrained, pose the greatest risk to patient and provider safety [1].
The rate of transportation‐related injuries for EMS personnel is more than 30 times higher than the national average, and many ambulance crashes cause career-ending injuries for the providers involved [2].
Until recently, there was no readily available solution that provided EMS personnel with the freedom of movement required to provide patient care while also ensuring their safe restraint during transport.
Balancing safety with freedom of movement
The REV Ambulance Group has partnered with IMMI to create a new solution for EMS provider restraint. The Per4Max Controlled Decelerator four-point restraint system absorbs energy and slows deceleration, which can reduce the chances of serious injury during a collision while also allowing providers the freedom of movement needed to deliver care.
The system comprises a shoulder and waist belt on each side of the body that meet at a single buckle, which connects low across the provider's hips. The single buckle allows the system to be secured quickly, compared to a traditional six-point system. The belts are all expandable and retractable, accommodating a variety of body types and movements necessary for patient care.
In addition to the four-point, four retractor system, the Per4Max has controlled decelerator technology built into each belt with special webbing that absorbs energy during a crash. This technology, unique to the Per4Max system, has the potential to significantly reduce the force that the body incurs during a collision, lowering the risk of serious head, neck and chest injuries.
IMMI tested the system thoroughly in front-end, side-impact, and rollover collisions. In all tests, the Per4Max system kept providers securely restrained in their seats.
Make provider safety a priority 
EMS providers will always have patient care as their top priority. Any system that limits a provider's ability to reach their patient is not likely to be used on a consistent basis, if at all.
Updates in ambulance safety must reflect the importance of patient care to EMTs and paramedics, and allow them the ability to provide high-level care while restrained. Agencies wishing to increase compliance with seat belt and restraint policies should evaluate the reasons why providers choose to remain unrestrained and move to a system that mitigates those challenges.
References
1. Watanabe, Brooke L., et al. "Is use of warning lights and sirens associated with increased risk of ambulance crashes? a contemporary analysis using National EMS Information System (NEMSIS) data." Annals of emergency medicine (2019).
2. Maguire, B. J. (2015). Ambulance safety. In Emergency Medical Services (eds D. C. Cone, J. H. Brice, T. R. Delbridge and J. B. Myers). doi:10.1002/9781118990810.ch96
---
About the Author
Shawna Renga, AS, NREMT-P, currently works as an instructor for the United States Coast Guard Medical Support Services School in Petaluma, Calif., providing EMT training for helicopter rescue swimmers and Coast Guard corpsmen. She also works part-time for a private ambulance company, and lives with her husband and two sons in Sausalito.

Request information from REV Group
Thank You!