Case study: Ambu-Trans Ambulette Dramatically Reduces Collision Rate with Mobileye
Learn how Mobileye's collision avoidance system helped effectively decrease the number of collisions, collision related losses and insurance claims for Ambu-Trans Ambulette
---
Content provided by Mobileye
THE CHALLENGE: AMBU-TRANS AMBULETTE WAS LOOKING TO REDUCE THEIR COLLISION RATE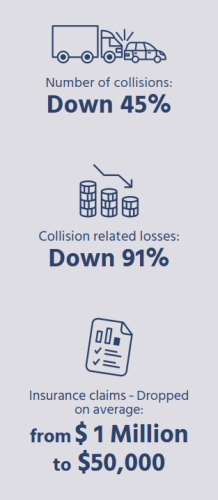 Ambu-Trans Ambulette, a provider of non-emergency medical transportation services in New York, was facing a challenge common to fleets. It was experiencing 35-50 crashes along with estimated losses of $1 million per year. All this while transporting the most valuable cargo of all – people with special transportation needs. This means collision avoidance was of particular importance for the company.
THE SOLUTION: AFTER A SHORT TRIAL PERIOD USING MOBILEYE'S COLLISION AVOIDANCE SYSTEM, NEAL KALISH, THE PRESIDENT AND OWNER OF AMBU-TRANS DECIDED TO RETROFIT HIS ENTIRE FLEET OF VEHICLES
To cut down on the number of collisions the company researched several safety technologies. They tried installing dashcams but found they didn't lower the number of crashes. As CEO Neal Kalish put it, "Prior to installing Mobileye we put dashcam in our vehicles as a first measure, but they were great after the fact. We were seeing what happened in a collision but it wasn't necessarily curbing incidents, accidents, and collisions."
Continuing their research, Kalish had Mobileye installed in his personal vehicle. Happy with this trial experience, Kalish decided to install Mobileye in his fleet vehicles.
THE OUTCOME: AN ASTOUNDING 91% DROP IN COLLISION-RELATED LOSSES AND 45% IN FREQUENCY OF COLLISION
The results were dramatic—collisions fell to five or six per year, a 45% reduction in the number of collisions, while collision-related losses dropped 91%(!). Beyond this, they saw a drastic reduction in insurance claims from $1 million to $50,000 a year, lowering their insurance premium as well as increasing safety. These results show that Ambu-Trans' investment in Mobileye paid for itself in just three months, according to Mobileye's ROI calculator (and subject to its caveats).

Watch the video below with Neal Kalish, the President of Ambu-Trans Ambulette discuss their decision to go with Mobileye collision avoidance systems.

Request information from Mobileye
Thank You!