PRESS RELEASE
EMS1 Editor-in-Chief named 2018 Neal Award winner
---
SAN FRANCISCO – Praetorian Digital, the leading digital media company in the public safety and local government market, announced it has won the 2018 Jesse H. Neal Award for Best Blog or Commentary.
EMS1 Editor-in-Chief Greg Friese was recognized by the Neal Awards, a top b-to-b media award program honoring editorial excellence, for the second year in a row. He won last year in the Best Profile category for his profile on San Diego Firefighter/Paramedic Ben Vernon. This year, he was recognized for his insightful columns which take a balanced and nuanced approach to some touchy subjects, including Trump's stance on opioids and climate change.
"I'm proud of Greg and appreciative of the Neal Awards for again recognizing his stellar efforts. His columns consistently strike the right tone for EMS1's public safety audience, challenging readers to improve their understanding of developing issues and to reconsider ingrained yet counterproductive beliefs within EMS," said Jon Hughes, Vice President of Content for Praetorian Digital.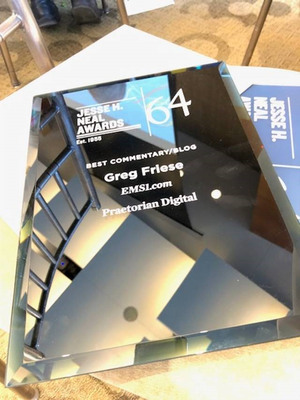 Founded in 1955, the Jesse H. Neal Awards were established to recognize and reward the best editorial content in business media. Entries are scored in three areas: journalistic enterprise, extent of service to the field and editorial craftsmanship. The winners were announced April 5 during ABM's annual Neal Awards ceremony in New York City.
About Praetorian Digital
Founded in 1999, Praetorian Digital is the leading digital media company in the public safety and local government market. Our properties are visited by more than 5 million public safety and local government officials every month and count over 1.3 million first responders and government personnel as members. Praetorian owns and operates PoliceOne.com, FireRescue1.com, FireChief.com, EMS1.com, Corrections1.com, Military1.com and Gov1.com as well as more than 15 topical websites providing resources ranging from accredited online training to grant funding assistance. We are deeply committed to providing cutting-edge information and resources that help first responders, government officials and military personnel better protect themselves and serve their communities