How empathy in action can help beat the opioid epidemic
The compassionate treatment opioid users receive from first responders can lead to education and healing
---
Sponsored by Medline
By Yoona Ha, EMS1 BrandFocus Staff
America's opioid epidemic continues to be one of our most challenging public health disasters. On average, 130 people die every day from opioid-connected overdoses, and more than 702,000 people have died from an overdose since 1999. These staggering numbers are compounded by a price tag of an estimated $216 billion in health costs since 2001 as well as billions of dollars in unreimbursed care.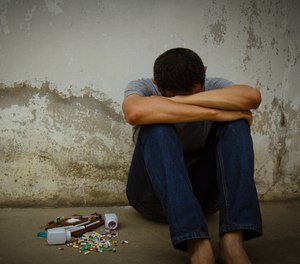 First responders, especially EMS providers, are at the front lines of this crisis, from responding to overdose calls to transporting patients to emergency rooms, which often serve as the first stop for patients with opioid addiction.  
This gives prehospital providers the important responsibility of both knowing how to properly treat and respond to signs of an opioid overdose while also protecting themselves from possible exposure. In addition to the CDC and state and local health departments, medical suppliers like Medline are stepping up to help provide this critical information.
One father's call to action
In 2011, Rob Brandt lost his 20-year-old son, Robby, who seemingly had his whole life ahead of him while he was serving in the military preparing for deployment. His sudden death was a reminder to those around him that people suffering from drug addiction are commonly depicted at their most vulnerable.
In response to his son's death, Brandt and his family founded the nonprofit Robby's Voice with the goal of informing and educating families, medical providers, and first responders of the signs and symptoms of opioid addiction and treatment approaches.
Brandt saw opportunities to tap into his network at Medline, where he works as the director of corporate implementation, to advise and educate on how clinicians and medical personnel could better help. He worked with colleagues to create a free online course for nurses called "Battling the Painkiller Addiction Epidemic" that aims to explain the significance of painkiller addiction in the U.S., the signs and symptoms of opioid abuse and withdrawal and alternatives to treating pain to help prevent abuse.
"Even non-drug manufacturers can play a key role in these conversations," said Brandt. "At Medline, we're really here to drive awareness and work to protect first responders on the scene."
Reducing the risk of accidental exposure among EMS providers is one of the program's goals. For instance, Medline provides first responders with critical response gloves designed to keep them safe from possible fentanyl exposure.
Changing perceptions about people with opioid addiction
Another crucial part of responding to this crisis involves helping EMS providers understand the addiction process to encourage a more empathetic approach.
"As a first responder you must make a choice: You can either treat patients with the stigma, or you can be that person who treats them with human dignity. This could empower the person to get the help they need," said Brandt. "[At Robby's Voice], our biggest message to the first responder community has been that we're not advocating for the elimination of consequences, but we're proponents of treating patients with dignity. You don't know how they got to where they are at their lowest moment."
Making this shift has been a gradual process made possible by EMS agencies that invested in training for first responders to help them understand how addiction works and how it affects the brain.
"Once you understand how addiction works, then it becomes easier to take a compassionate approach to providing addiction treatment," said Brandt. "EMS providers can also become ambassadors for community education on the need for destigmatization of people with opioid addictions."
Huntington, West Virginia is just one example of many of how taking a compassionate approach to opioid addiction can be an effective strategy for reducing overdose deaths. In December 2017, the city began its initiative to send small teams to visit people who had overdosed to offer support and resources. This initiative has been credited with cutting the overdose rate in half in its first six months.
As opioid addiction continues to cause harm to families and communities across the country, Robby's story is a reminder that millions of people can benefit from the effective strategy of treating drug abuse as an illness. It's not just patients and families who bear the burden of the epidemic – as an EMS professional and a community member, you and your organization can make a positive difference by joining the conversation on opioid response strategies.

Request information from Medline
Thank You!