How to choose a medical kit carry pack
Before choosing a carry bag for medical supplies, make a list of what you need
---
Sponsored by Rescue Essentials
By Margarita Birnbaum for EMS1 BrandFocus
An online search for "medical kit packs" turns up hundreds of photographs carrying gear for first responders. There's everything from bags that open like a book to waist packs with multiple pockets to backpacks with dozens of compartments. With so many options, how do you choose the right one for the job?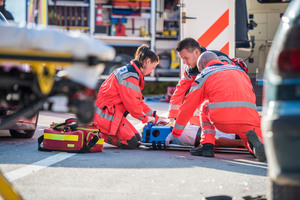 It's as simple as making a list and checking it twice.
Before even looking at a bag's features, EMS providers should make a list of the medical supplies they need to carry to treat the injuries they see day in and day out, says Nick Disparti, a program manager  and product specialist for Rescue Essentials, a company that sells medical kits, PPE and other EMS equipment.
A paramedic in Dallas who routinely treats people suffering from lacerations, gunshot wounds or drug overdoses is going to need a very different medical kit from that of a park ranger who has to hike to a remote area of Yellowstone National Park to treat someone with fractures, sunburn or dehydration, Disparti says.
"After years of building kits for a wide array of operational environments, we've learned that there's really no right or wrong way to set up a medical kit," said Disparti. "The 'right' way is the way that best meets the operational needs of the environment you're working in."
What are the demands of your service environment?
First responders should use the same approach when choosing a bag to transport their tourniquets, bandages, airways and other medical supplies, he adds, because what works well in one environment may not work well in another.
That's why, when federal, state and local agencies come looking for supplies and bags to carry them for their first responders, Disparti and the custom design team at Rescue Essentials ask a lot of questions about the customer's surroundings, the terrain they work in and the weather conditions typical of their cities, counties and regions.
"The Border Patrol search-and-rescue team operating in a remote area, carrying what they have, is going to require a very different design than the one used by EMS responders that are going to a scene in their ambulance or their truck," said Disparti, a former medic with the U.S. Coast Guard and emergency department technician.
Open bags with dividers or modular packs?
Certainly, the pack designs available today are purpose-designed and much handier than the Plano 757 tackle box and tri-fold carry bag once used by Disparti and generations of first responders before him. Many bags on the market, such as the ones sold by Rescue Essentials, are open or modular designs and are made from a rugged, high-density material like Cordura or durable, infection-resistant, medical-grade fabrics that are easy to clean.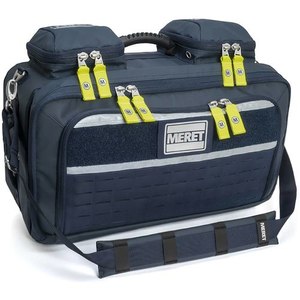 Open bag systems have interior dividers or panels meant to make it easier to see and grab whatever you need. They may have top handles and backpack straps to be carried in multiple ways.
Disparti says open bags like MERET Omnipro X and the Iron Duck Pack Case Triple may be ideal for first responders who work in more urban environments. These bags have the advantage of all the supplies laid out between dividers for rapid access. All medical supplies may not be required in one bag as they can return to the ambulance or truck for additional supplies or carry multiple bags with distinct purposes (such as trauma and O2/airway supplies).
Modular bags, such as the Stat Packs G3 Backup and the Conterra ALS Extreme, Disparti says, are more often used by first responders who treat patients in more remote environments, such as national parks, ski areas, deserts, rivers and other locations where access to patients and additional supplies is difficult. These bags use modular pouches to organize components into specific treatment types, such as bleeding control, airway management, splinting, IV, etc.
Modular bags make it easy to group and pack medical treatment components for specific uses, says Disparti, and knowing which module you need for the call at hand can enable faster and more effective treatment.
"Confined spaces, such as a rockfall at the base of a cliff, may hinder movement back and forth to your kit to retrieve additional supplies," he said. "In that type of environment, a modular system with components broken out into their own packed modules – airway, splinting, bandaging, IV, diagnostics, etc. – may be more effective. Also, if you are working with a partner, you can easily hand a module off to them, and they have everything they need without having to move the med pack or move around the patient to get to the med pack."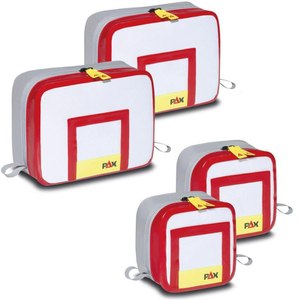 Pack critical supplies in advance to respond to patients with serious injuries faster
Regardless of what pack you choose for your medical kit, Disparti says components such as tourniquets, pressure dressings, airways, BVM and other critical supplies to treat life-threatening injuries should be immediately accessible, whether inside or outside the bag. One of the benefits of packing those components in modular bags, such as the Pax Inner Pouch Modules, is that they can be easily separated from the main bag in situations with multiple patients.
"It can be critical to have gear packed properly," Disparti said. "We don't want the components buried in the pack."
Disparti recommends trading notes with your peers about the contents of their medical kits for tips and tricks – and the pros and cons of the bags they carry them in. Rescue Essentials also offers consulting to help EMS clients choose the gear they need.
"Are you just carrying medical, or do you need to carry personal support gear – food, clothing, water – for extended on-scene or multi-day missions?" said Disparti. "These factors are going to dictate what you can carry, how much you can carry and how you're going to organize."
For more information, visit Rescue Essentials.
Read Next: Why you should teach bleeding control for bystanders

Request information from Rescue Essentials
Thank You!