Newest High End Swiss Ventilation Technology for Rega's Challenges
---
Bonaduz. Switzerland: Hamilton Medical and Rega – two Swiss industry leaders partner in intensive care. Hamilton Medical recently launched the HAMILTON T1, their new intelligent solution for ventilation in the mobile ICU. Rega is the first air rescue service in the world to equip their fleet of air ambulances with this advanced mobile intensive care ventilator HAMILTON-T1 as launching partner.
The HAMILTON-T1 ventilator features a compact, powerful design that increases the availability of appropriate modes of therapy for ventilated intensive care patients outside the hospital. The HAMILTON-T1 covers the full range of clinical requirements: invasive ventilation, automated ventilation with Adaptive Support Ventilation (ASV®) – invented by Hamilton Medical, and non-invasive ventilation (NIV).
Optimum care for every patient
The Rega's decision to partner with Hamilton Medical was made as HAMILTON-T1 delivers an ICU ventilation solution in a transportable platform that's appropriate for all patients – from pediatric to adult. The HAMILTON-T1 is the ideal choice for extreme environments, where ICU ventilation is a must. When transporting ventilated intensive care patients, superior technical performance is only one important quality. Ventilators must also deliver reliable data and easyto- follow user guidance for better clinical decisions and improved patient outcomes, together with low operating costs throughout the working life of the investment. C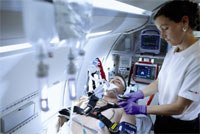 Commitment for Intelligent Ventilation
Swiss based Hamilton Medical was founded in 1983 to improve the lives of ventilated patients and simplify operation of ventilator systems for the clinician. Today, Hamilton Medical continues this tradition of innovative ventilation therapy for intensive care with a special commitment on Intelligent Ventilation, for which they become well known specialists and an industry leader in intensive care ventilators for patients ranging from adults to neonates. This privately owned company produces these sophisticated precision instruments exclusively at their green manufacturing facility in Bonaduz – Made in Switzerland. The high reliability of products and services are ensured by direct sales networks as well as a worldwide group of select distribution partners on all continents.