EMS Today 2009 Product Roundup: Airway Management
---
By EMS1 Staff
Airway management is a crucial skill for paramedics and EMTs and a major priority for patient care. Current products in the industry, from intubation guides to CPAP, assist EMS providers with the often difficult task of getting a patient to breathe.


Allied Healthcare Products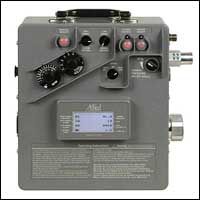 The MCV100 by Allied Healthcare
Allied Healthcare Products is taking a different approach to ventilation in the prehospital environment. Its booth at EMS Today focused on its new line of MCI ventilators designed to be used at large incidents with a high number of patients.
Launched last year, the MCV100 Mass Casualty Ventilator combines elements from both critical care ventilators and pneumatic EMS ventilators. The MCV100 is a robust, simple, light-weight ventilator that is able to be stock-piled due to its low maintenance (four months for battery recharges; three years for minimal replacement).
The MCV 100 delivers ambient air or oxygen at tidal volume range of 200 to 1200 ml, as well as safety alerts. Price ranges from $2,800 to $3,500. For more information, visit http://www.alliedhpi.com/mcv.htm.


Intubrite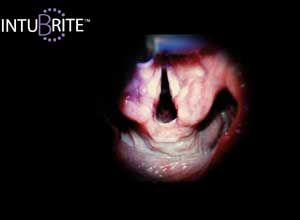 A view from Intubrite
A new product that garnered attention from conference show attendees was the Intubrite Laryngoscope Blade. Using its HyperVisualization System, Intubrite features a dual system of white and black lights that illuminate the vocal cords during intubation.
The accompanying stylet is coated with a phosphorescent material that activates under the black light, and clearly shows passage through the vocal cords. The Intubrite blade is constructed of stainless steel and sits at a 50-degree angle with the ergodynamic aluminum handle.
Priced at about $300, Intubrite offers a simple and colorful way to increase first pass success of intubation. For more information, visit http://www.intubrite.com/.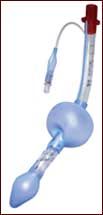 King LT-D

King Systems
The popular King Airway Kits, on display at the BoundTree Medical booth at EMS Today, offer an alternative method to the conventional tracheal intubation.
The King LT-D has soft, inflatable cuffs that allow for easier insertion and an increased comfort for the patient. The LTS-D model allows providers to insert a gastric tube through a second channel of the airway into the stomach.
This disposable device is designed to provide positive pressure ventilation over 30 cm H2O, as well as for spontaneous breathing. They feature a five-year shelf life and color-coded design for quick identification. For a complete list of King Airway products, visit http://www.kingsystems.com/PRODUCTS/AirwayDevices/tabid/79/Default.aspx.



NuMask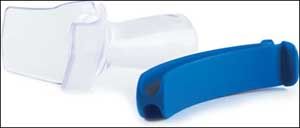 The NuMask IOM with OPA
Since being chosen as a "hot product" pick at EMS Today 2007, the NuMask continues to impress providers with its innovative method of providing a secure ventilation mask that doesn't cover the entire face.
The NuMask provides a leak-free seal for improved ventilation and patient comfort, as well as multiple grip styles and supplemental products that make the NuMask easier to use in the field.
Other NuMask product lines include the Bag Valve Resuscitator kit, the CPAP/BiPAP kit, and a CPR kit. For more information on these products, visit http://www.numask.com/index.php.


Philips Healthcare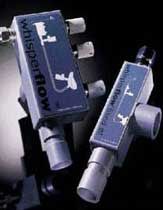 The WhisperFlow CPAP
Over at the Philips Healthcare booth, the CPAP WhisperFlow caught the attention of many EMS Today attendees. The WhisperFlow features a medical-grade oxygen mask and touts an easier work-of-breathing minimum than other CPAP machines in the market.
The WhisperFlow allows for variable flow generated from 0 to 140 L/min, and oxygen concentration, from 28 to 100 percent. This CPAP is suited for both adult and pediatric patients.
According to Philips representatives, the WhisperFlow offers a simple-to-use system, a low oxygen requirement to operate, and a competitive price point. For more information, visit http://whisperflow.respironics.com/.



Verathon Medical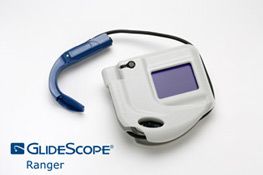 The GlideScope Ranger
Verathon Medical is focused on tackling difficult intubations with its innovative product line. The GlideScope Video Laryngoscopes provide a clear, real-time view of a patient's airway on a non-glare video monitor.
The GlideScope Ranger, a portable and compact laryngoscope, is currently being used out in the field by the U.S. Army. It features a patented 60-degree angle blade with a fog-resistant camera lens.
The Ranger also features one of the slimmest blades in the video market, designed for easier intubation. A pediatric size is also available that is able to intubate neonatal pediatric patients weighing less than one pound. For more information, visit http://www.verathon.com/index.htm.

Request product info from top EMS Airway Management companies
Thank You!