Gearbook is an ePCR hardware device for paramedics
Get a complete solution that seamlessly handles electronic patient care reporting for your agency
---
Sponsored by Forté Holdings
By Tim Nowak for EMS1 BrandFocus Staff
Forté Holdings has changed the game when it comes to patient care reports (PCRs) and the necessary equipment to complete them.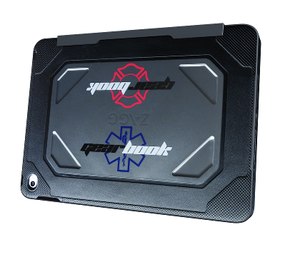 With the success of its iPCR software – a cost-effective, customizable and user-friendly ePCR program – it's now rolling out its total solution option of combining a tablet with a physical keyboard, protective case and ePCR software.
THE GEARBOOK
Dubbed Gearbook, this new product combines the hardware and software you need when purchasing a new PCR program.
While most vendors require that you purchase the PCR software separate from the actual hardware, such as a laptop or tablet, Gearbook eliminates this step and streamlines your purchase into one single transaction.
Gearbook is a tablet that includes a durable and rugged protection case along with a detachable Bluetooth keyboard.
The software has top features needed for EMS work and lets users easily access records from a prior patient, add a picture of the scene to your report, all while meeting NEMSIS 2 and 3 gold compliance standards.
IPCR FIELD WORK
Using Gearbook, you can look up a patient's name and auto-populate all of their demographics, past medical history, medications, allergies and billing information with a few button clicks using the powerful patient lookup feature. Your team can queue up the information of scheduled patients and have that ready for you prior to arriving on the scene.
As you package your patient, transport them to the ambulance, and start your ride to the receiving facility, all vital signs, rhythm strips, 12-leads, interventions, and all of your necessary data fields are just a tap away via Gearbook.
Having a tablet with the integrated iPCR software allows you to utilize HIPAA compliant secure data transmission via email, fax, and Bluetooth to send ECG tracings, crash scene photos and patient registration information all over a secured network, directly to the hospital.
Gearbook gives you the ability to integrate any agency forms. Want to fill out the hospital's STEMI checklist? You can upload a digital version to your Gearbook and complete it in real time. When you arrive at the hospital, you can have it emailed or faxed directly to the charge nurse, or you can print it as you connect to a wireless printer. No fax or printer available at hospital? No problem. With the included secure hospital portal, staff can log in and view or print a report instead of waiting around the hospital.
OTHER PERKS OF GEARBOOK
Gearbook allows for seamless transfer of reports from one Gearbook to another.
After the call is done and your report is completed, administrative staff can review your PCR for data entry compliance, quality assurance metrics and for overall report completeness.
Custom levels and workflows ensure each member of your team has access to only what they should with regard to their role. Protected health information remains protected and the continuity and integrity of the report remain legally sound.
CUSTOMIZABLE FIELDS
iPCR has automated features and a simple to use interface that allows you to customize almost every field and option available in the program with built-in NEMSIS compliance along the way. From a data standpoint, not only is the iPCR software NEMSIS compliant, but it also allows you to expand and customize without compromising your compliance or agency needs.
Response locations, hospital destinations, GPS-based mileage tracking, CAD integration, data-sharing with your local hospitals, cardiac monitor integration – all of this is possible with Gearbook – and it can all be customized to meet your needs.
When it comes to a customer-centered and simplicity-driven product, Gearbook is the one.
About the Author
Tim Nowak, AAS, BS, NRP, CCEMT-P, SEMSO, is the founder and CEO of Emergency Medical Solutions, LLC, an independent EMS training and consulting company that he developed in 2010. He's been involved in EMS and emergency services since 2002, and has worked as an EMT, paramedic and critical care paramedic in a variety of urban, suburban, rural and hospital settings. He's also been involved as an EMS educator, consultant, item writer, clinical preceptor, board member, reference product developer, firefighter and HazMat technician throughout his career.

Request information from iPCR
Thank You!