How to buy patient simulation devices (eBook)
Download this EMS1 patient simulation devices buying guide to learn key steps for product selection, purchasing and implementation
---
To download your free copy of "How to buy patient simulation devices (eBook)" Buying Guide from EMS1, fill out this form.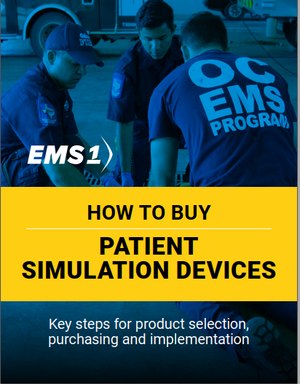 Healthcare technology is evolving at amazing speeds, and that includes the equipment and devices we use to train new EMS providers. Today, patient simulation devices are used for all levels of EMS instruction. Students, especially the younger generations, consider it a standard part of their learning journey. It is used by formal training institutions for initial and refresher education, as well as within EMS agencies to provide orientation, skills competency checks, focused continuing education and introduction to new protocols or procedures. 
Organizations seeking to add patient simulation devices to their training arsenals should carefully assess their need, research the products available and make purchases that will enhance their programs.
The market for patient simulation devices can be overwhelming. Manufacturer catalogs and websites offer seemingly endless options. Using this buying guide, services can avoid spending valuable capital on products that won't contribute to the success of their training program or students' ability to assess and treat patients. 
Included in this guide: 
Key considerations before buying
Implementation considerations
Questions to ask vendors
Company directory
To download your free copy of "How to Buy Patient Simulation Devices" Buying Guide from EMS1, fill out this form.