How an unexpectedly fast stroke recovery is possible, according to a stroke survivor
Quick action by family, paramedics and doctors combined with innovative procedure made a huge difference
---
Sponsored by Medtronic Neurovascular
By Cindy Coleman for EMS1 BrandFocus
Don Soltis remembers the hard-charging guitar sounds of ZZ Top, and with that, surgeons started an intricate clot-retrieving procedure to save his life. He had suffered a stroke. According to the American Stroke Association, someone in the United States has a stroke every 40 seconds.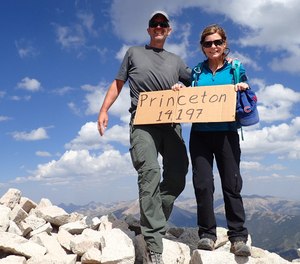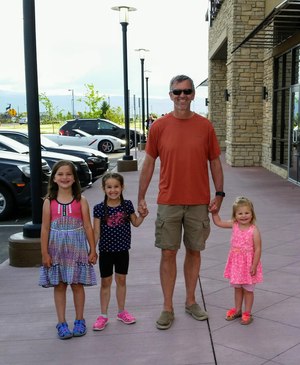 But it wasn't just the clot-retrieving procedure that reduced his potential for long-term disability, it was a combination of quick action by his wife, experienced paramedics, knowledgeable doctors and Soltis' overall good health.
A stroke occurs when a blood vessel to the brain is either blocked by a clot or bursts. When that happens, blood and oxygen are cut off to the affected part of the brain killing brain cells. And depending on the affected part of the brain, a person may experience paralysis, slurred language, blurry vision or other problems.
According to the American Stroke Association, stroke is the fifth leading cause of death in the U.S. and is also a leading yet preventable cause of long-term disability.
WAIT, AM I HAVING A STROKE?
Soltis is an avid skier and hiker living in Timnath, Colorado, just outside of Fort Collins. He considers himself a "tech guy," a senior engineer who designs computer processing units. At the age of 55, lying on an operating table about to undergo a neuro-vascular procedure was the last place Soltis ever expected to be. He was at the University of Colorado UCHealth Stroke and Brain Aneurysm Center, a comprehensive stroke center, but it all started a few hours earlier at his home just before 4:30 a.m.
Soltis remembers looking at the clock radio noting the time and that it was foggy outside. He was trying to get out of bed, not realizing anything was wrong, yet the left side of his body was paralyzed. His rustling around got his wife, Kris' attention and she asked what was wrong.  "Nothing," he slurred.  "To me it sounded fine, but to her it was very slurred." 
Kris Soltis reached over and touched him discovering he felt clammy and sweaty. At first, she thought Don Soltis was having a heart attack.
"Kris actually came around to my side of the bed and turned on the light on the nightstand," said Don Soltis. "She took one look at my face and she knew immediately, 'Oh, you're having a stroke.'"
One side of Don Soltis' face was drooping. Not realizing this or that his left side was paralyzed, he kept trying to stand, but then fell to the ground. Kris Soltis called 911 and kept asking him whether he knew that something was wrong.
"I was trying to kneel, get on my knees or sit down on the ground and I couldn't do it. That was super frustrating to me. Internally, I was thinking, why can't I do this?" Don Soltis recalled.
Between flashes of consciousness, Don Soltis remembered the paramedics.
"I noticed they had on blue shirts with the mark and the flag on the side and I thought, 'This is bad,'" he said.
But with Kris Soltis' quick action and that of the paramedics, he was off to Poudre Valley Hospital, a primary stroke center, in Fort Collins, Colorado arriving there in less than 10 minutes. At the hospital, Don Soltis remembers having an MRI and hearing the doctor in the background saying, "It's confirmed. It's a stroke." 
When Don Soltis heard the doctor utter those life-changing words, he started thinking the worst. All the people he knew that suffered a stroke had trouble walking and talking and that's what he pictured for himself.
GETTING COMPREHENSIVE STROKE CARE
Even though Poudre Valley Hospital is a primary stroke center, doctors determined that Don Soltis needed to get to a comprehensive stroke center which provides the highest level of care possible. Normally, he would have been flown by a medical helicopter, but with the early morning fog that he noticed earlier, Don Soltis had to be driven by ambulance. All the while, the seconds were ticking. His cranium carotid artery was blocked by a clot, the blood completely cut off to the right hemisphere of his brain.
At Anschutz Hospital, specially trained surgeons performed a mechanical thrombectomy, a procedure in which doctors thread a catheter through a groin artery to the blocked artery in the brain. The catheter has a wire-cage device on the end called a stent retriever which grabs the clot. It was in the operating room that Don Soltis remembers being asked if he wanted to listen to some music. He gave a weak thumbs up.
He saw a medical attendant respond with another thumbs up, and soon ZZ Top's La Grange started rocking the operating room.
HOW TO RECOGNIZE STROKE F.A.S.T.
Throughout that Friday morning in April 2017, Don Soltis lapsed in and out of consciousness acknowledging that the whole ordeal was probably a lot harder on his wife than it was on him.
"Everything was changing for her," said Don Soltis. 
The American Stroke Association says to use the letters in "fast" to spot stroke signs and know when to call 911.
F – Face Drooping
Does one side of the face droop or is it numb? Ask the person to smile. Is the person's smile uneven or lopsided?
A – Arm Weakness
Is one arm weak or numb? Ask the person to raise both arms. Does one arm drift downward?
S – Speech Difficulty
Is speech slurred? Is the person unable to speak or hard to understand? Ask the person to repeat a simple sentence, like "The sky is blue." Is the person able to correctly repeat the words?
T – Time to Call 911
If someone shows any of these symptoms, even if the symptoms go away, call 911 and say, "I think this is a stroke" to help get the person to the hospital immediately. Time is important! Don't delay, and also note the time when the first symptoms appeared. Emergency responders will want to know.
PREVENTING STROKE 
Even as quickly as everyone reacted, Don Soltis lost 15 to 20 percent of his right hemisphere. His recovery is considered remarkable. Don Soltis went into the hospital on Friday and was up walking by Sunday, within 48 hours of his stroke event. His doctors could not find the source of his blood clot – no high cholesterol, no plaque, no damage to arteries, no heart murmur, no smoking and in overall good health.
Don Soltis is an E.S.U.S., the acronym for people who have suffered "embolic strokes with an undetermined source."
"I think being really healthy played a big factor in being able to get through this quickly and back on my feet," said Don Soltis. "Kris and I have always been very active. We bike a lot, hike and ski."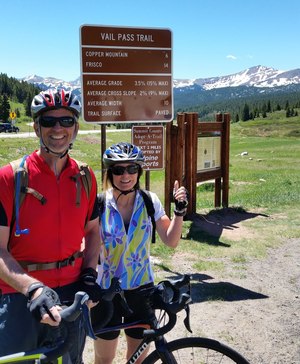 As soon as doctors gave him the go-ahead, he and his wife went biking up Vail Pass, hiking to the top of Vail Mountain and climbing 14ers again – mountains more than 14,000 feet.
Now that Don Soltis had a stroke, he has a 25 percent chance of having another one. The American Stroke Association says stroke is largely preventable and second clot-related strokes may be up to 80 percent preventable. Some of the ways to reduce your stroke risk include living a healthy lifestyle, controlling high blood pressure and not smoking. 
Don Soltis is grateful. He realizes the outcome of his stroke could have been much different had it not been for the quick action of his wife, paramedics and doctors. 
"Now every time I hear that song, ZZ Top's La Grange, I remember that was the day they were saving my life," he said.

Request information from Medtronic Neurovascular
Thank You!