Dear EMS provider, are you at risk of stroke?
Prehospital providers shouldn't be cautionary tales of why knowing your stroke risk matters
---
Sponsored by Medtronic Neurovascular
By Yoona Ha, EMS1 BrandFocus Staff
Each year stroke affects around 795,000 people, many of whom end up in the hands of EMS staff who race against the clock to get treatment for these time-critical patients.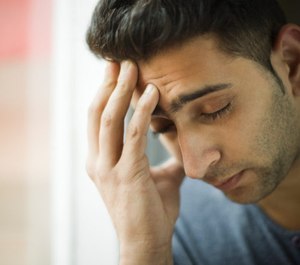 With almost three-quarters of all strokes occurring in those older than 65, it's not surprising that many EMS providers envision your typical stroke patient to be older. But in the field, those assumptions can be challenged, especially when stroke strikes those you'd least suspect.
That could mean you or your EMS partner.
No matter how great you are at identifying the signs of stroke in others, it's a different story when it happens to you. It can feel almost impossible to alert others when an onset occurs. As in the case of Samantha Agins, who died after suffering a series of strokes, the first while she was administering CPR to a patient, you can be having a stroke and not even be aware of it.
Stroke can also strike when you least expect it, affecting even those you think are in great physical health.
Nicole Van Heel, a paramedic who died of a pulmonary embolism, is just one example of a cautionary tale of how stroke can consume the life of anyone. She  was recovering from a surgery but was deemed fit enough to return to work, but no one saw it coming when she had a stroke on the job.
What these two stories have in common is a call to action: Knowing your stroke risk factors may save your life.
Stroke can happen anywhere to anyone
Dr. Jason Tarpley, director of the Stroke and Neurovascular Center at Providence Saint John's Health Center in Santa Monica, CA, recalls treating a retired fire captain who was out for a swim when he had a stroke.
"He was swimming with his buddies, some of whom were EMS providers, when he had a stroke," Tarpley said. "He was incredibly lucky – he was in the right place at the right time."
The patient, who was in his early 60s, had a large vessel occlusion (LVO) that was caught and treated by Tarpley and his team through a mechanical thrombectomy just in time for him to make a complete recovery.
But Tarpley agrees that for the majority of stroke patients, it's hard to be that lucky. For the rest of us, that means the biggest preventative measure prehospital providers can take is to understand their risk of stroke.
Know your stroke risk factors
Why would this healthy male patient under 65 have a LVO? That was one of the first questions Tarpley sought to answer. Turns out the patient has atrial fibrillation, a common arrhythmia known to increase a patient's risk for stroke by fivefold in certain cases.
"If you have a condition like atrial fibrillation, it's always worth having that conversation with your doctor on what options you have to lower your risk," Tarpley said. "And we're not just talking about medications – it's about controlling what you can through lifestyle changes."
Stroke risk factors checklist
As prehospital providers and stroke specialists point out constantly, the changes you make now could impact your likelihood of having this life-threatening emergency down the road. The CDC and the American Stroke Association have identified the following stroke risk factors as those that anyone can take preventative measures against:
High blood pressure
Smoking
Diabetes
Diet
Physical inactivity
Obesity
High blood cholesterol
Carotid artery disease
Peripheral artery disease
Atrial fibrillation
Heart valve disease
Congenital heart defects
Sickle cell disease
"I encourage EMS providers to know their health number – their blood pressure, cholesterol, blood pressure and BMI score," Tarpley added.
Every day prehospital providers are at the front lines of stroke care and are increasingly playing a bigger role in improving outcomes for stroke patients. Knowing how to identify the signs and symptoms of stroke in others is fundamental, but it's also important that prehospital providers take steps to address their own risk factors.

Request information from Medtronic Neurovascular
Thank You!