Drone vs. ambulance: How one Canadian paramedic service went beyond to deliver critical medical technology
A unique race between an ambulance and drone flying beyond the line of sight demonstrates what's possible for emergency services in remote areas
---
Sponsored by Cradlepoint
 
By Laura Neitzel, EMS1 BrandFocus Staff
In the 2010s, unmanned aerial vehicles, aka UAV or drones, moved from the realm of science fiction into reality. In the 2020s, drones are likely to become even more prevalent in emergency response, search and rescue operations, accident investigations, site surveys, package delivery and countless other tasks.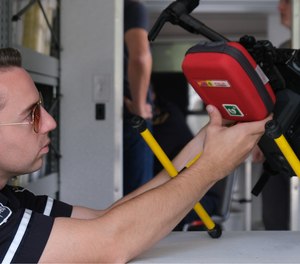 While some of the package delivery tasks are more of a novelty than a necessity – drone-delivered pizza, anyone? – drones offer great potential to speed delivery of life-saving medical supplies to isolated and undeveloped areas. Already, drone delivery is being used to ferry blood units to remote health centers in Rwanda, where blood loss after giving birth contributes to the nation's high rate of maternal mortality.
To make drones similarly useful in remote areas of the United States and Canada, operators need to prove that long-range, unmanned drones can be safely operated and integrated into the North American airspace. Currently, both the United States' and Canadian aviation authorities restrict drones to flying within the operators' line of sight so as not to interfere with commercial aviation.
While the County of Renfrew Paramedic Service in Ontario, Canada have had permission to operate their drone beyond visual line of sight for emergency response for over three years,  flight trials are underway to evaluate the service's ability to fly beyond the operator's line of sight to deliver critical supplies to remote areas compared to standard response by vehicle. Key to the drone's ability to fly longer distances beyond line of sight was cellular technology provided by Cradlepoint.
Structuring the experiment
The County of Renfrew in Ontario, Canada, occupies over 2,800 square miles of densely forested, lightly populated, mostly rural terrain that can make it a challenge to deliver medical services and supplies to areas not easily accessible by road or waterway. The remote and rugged conditions made it an ideal location for a trial – a head-to-head, speed-to-destination matchup pitting an ambulance against a drone flying beyond the line of visual sight.
The mission: to deliver an automated external defibrillator to onsite researchers from the University of Toronto and Ottawa Hospital 10 miles away, where researchers would use the device to deliver four required shocks to a medical manikin.
Michael Nolan, chief paramedic and director of emergency services, spearheaded the trial in Renfrew County.
"One of the challenges for any paramedic service, large or small, is being able to extend your reach into the community to be able to make a difference and improve not only the chance of survival but also the way in which we serve our communities," he said.
InDro Robotics provided the drone, Ericsson provided the LTE advanced cellular network infrastructure and Cradlepoint provided the on-board, rugged router and cloud-based software that enabled the necessary LTE connectivity for control data and video between the UAS and its pilot. Without that constant connectivity, beyond-line-of-sight drone flight would be impossible.
"Because it was a research study, we had tight control in terms of our measurements and looked at the operation from a number of different angles," said Nolan. "We also wanted to standardize the response of the drone and standardize the response to the ambulance to be able to measure what the benefits are and where the opportunities are to optimize the drone response."
Racing for life
The trial was one of the first beyond-visual-line-of-sight (BVLOS) drone trials in Canada.
"What's different about paramedics and public safety agencies using drones versus other commercial operators is that the risk proposition changes when the reason that you're flying ─ and especially flying beyond visual line of sight ─ is when someone's life is at risk," said Nolan.
On each of several flights, the drone arrived more than seven minutes earlier than the ambulance.
"For every minute that goes by, the patient's chance of survival decreases by 10%," said Nolan. "What this means is that we were able to put a defibrillator in the hands of the people who called 911 seven minutes faster."
In real life, a seven-minute advantage in delivering shocks with the defibrillator before paramedics arrive via ambulance means a much greater chance of survival for a patient experiencing cardiac arrest.
As a result of the successful trial, Renfrew paramedics are now authorized to fly UAV beyond the visual line of sight, significantly expanding not only the range but also the capabilities of their drones.
Building for the future
The trial was about more than trying to see if a drone could beat an ambulance – it was about bringing the right technology partners together to create a unique BLVOS drone platform that could help the County of Renfrew and other paramedic services in hard-to-reach places due to distance, terrain or traffic to significantly reduce the time to treatment for patients suffering life-threatening medical conditions.
"What Cradlepoint has allowed us is to be able to integrate the cellular technology into our drone platform, which now unleashes it from requiring radio line-of-sight to allowing it to be able to fly anywhere that there is cellular service away from the operator," said Nolan. "That takes our range from being within 4 to 6 miles and extends it to well in excess of 20 miles for flight."
Several County of Renfrew paramedics are trained drone pilots, who evaluate calls on a case-by-case basis to determine if the drone is better positioned to deliver needed supplies by taking both patient and paramedic safety into consideration.  For instance, if a snowmobile driver had fallen through ice, paramedics could evaluate the ice in advance using the drone camera to strategize a safer rescue.
Nolan likens drones to a Swiss Army knife with options that can prove useful in various situations.
"It's a multi tool," he said. "You can optimize the use of any single drone by having numerous missions and having them more available within the community. By increasing the number of drones and their availability to be able to do a number of tasks, we can increase their usefulness."
Renfrew paramedics are working to have their drones equipped not only with lifesaving devices such as the AED, but also lifesaving medications such as epinephrine for anaphylaxis, naloxone for opioid overdose and everyday lifesaving medications that may be hard to access in rural areas. The drones then could be pre-positioned at dispatch centers throughout the community to give a time advantage in life-threatening situations.
"I can tell you it's absolutely a game changer and something that is very low cost, very high yield in terms of improving situational awareness and the use of resources on scene," Nolan said. "We're in the process of integrating Cradlepoint technology into our various drone platforms to be able to go further with heavier payloads. So no longer is the radio connectivity to the drone the Achilles' heel – it's now having drones that will go further and faster to be able to support paramedic response."

Request information from Cradlepoint
Thank You!