9 gift ideas for EMTs and paramedics
We put together a list of our favorite products you can easily find online this holiday season
---
Planning to shop for the first responders on your list these holidays? We put together a list of our favorite products you can easily find online. Whether it's for your significant other or your chief (or yourself!) there's something for everyone.
1. Leatherman multitool bracelet

Tools such as Allen wrenches, screwdrivers and box wrenches are designed into each of the 17-4 stainless steel bracelet links. The bracelet is adjustable to accommodate any wrist size and every link is customizable. You can also add an engraving. Learn more

If you and your friends like Nightwatch like we do, this makes for a perfect gift. These black heel and toe 11-inch white training socks are inspired by the popular reality TV show. Ideal to be worn under your boots during your night shift.

It's almost a cliché that medics drink too much coffee. When working long shifts though, that warm caffeinated pick-me-up can be lifesaving. This gourmet roasted coffee is inspired by EMS themes, and there's one for every taste. Browse their many blends, from the bradycardic breakfast blends to the tachycardic dark roasts.

Rescue Chic is a clothing line for female medics by female medics. Dannie Myers founded the brand to connect women in EMS and to celebrate being a woman in a male-dominated field. The brand offers shirts, hoodies, headbands, athletic wear and kids clothing. Learn more about Myers and the Rescue Chic community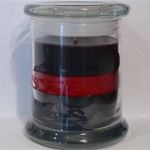 It's hard to go wrong with a candle. If it's an EMS-themed candle it's impossible. Timber Lodge Candles offers a variety of candles, including some for your colleagues in fire, police or dispatch.

MyID Sport is the light and sport-friendly version of the classic MyID bracelet. The star of life displayed on it lets first resonders from all over the world recognize the meaning of the bracelet. The emergency information can be accessed with QR code, 24/7 hotline or website. It is made of silicone and comes in 15 different color combinations.
7. Smith & Wesson Extreme Ops Rescue Knife

Smith and Wesson's Extreme Ops knife offers three tools in one small package. The knife includes a half-serrated tanto-style blade, seatbelt cutter and a glass breaker. At 4-1/2" when closed and a pocket clip, this knife is ideal for rescue personnel to carry around.
8. MDF MD One Epoch Titanium Stethoscope

This titanium stethoscope provides long durability and high performance. Titanium is twice as strong as aluminum and 45 percent lighter than steel. Its acoustic tubing provides insulation and high-quality sound transmission. Available in six colors, including pink!

This EMS T-shirt features worldwide EMS icons and symbols traditionally used throughout the history of emergency medical services. The cotton shirt is printed in the U.S. and is part of the American Firefighter clothing series from Fire and Fuel apparel.
Add your gift idea suggestions for EMTs and paramedics in the comments and check out 10 more gift ideas.