PRESS RELEASE
5.11 expands 'Everyday Hero' program with charitable donations
---
IRVINE, Calif. — 5.11, Inc., the global innovator of purpose-built apparel, footwear and gear, announced it has expanded its Everyday Hero program to recognize individuals who go above and beyond within their communities by adding a charitable component in light of the events surrounding the global COVID-19 pandemic. 5.11 has produced a limited-edition Everyday Hero T-shirt that will be sold with 100% net proceeds being donated to charities within the first responder community. Additionally, for each Everyday Hero T-shirt purchased, 5.11 will donate a KN-95 mask to a New York City first responder.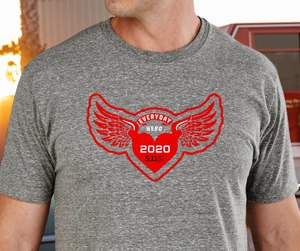 As always, civilian and professional #EverydayHeroes can be nominated through 5.11's social media pages @511Tactical. Purchasers of Everyday Hero T-shirts are encouraged to gift it to the Everyday Hero in their life and post a photo of the person wearing their T-shirt with the tag #EverydayHeroes. T-shirts can be purchased through 5.11's website. With the purchase of each T-shirt, 5.11 will also donate a KN-95 mask to a first responder in New York City, one of the areas in the United States hit hardest by the COVID-19 outbreak.
"There is so much good happening in the world, and we want to remind people of that. Encouraging and recognizing acts of kindness is imperative to societal stability and global solidarity," said 5.11's Vice President of Marketing, Jennifer Glover. "We are all in this together, and being able to support each other and those who serve is an excellent way to channel our energies and efforts. Giving back to the servicemen and women in New York through this initiative makes the gracious act of recognizing our local heroes, just that much more important."
"When the idea for this initiative began, it energized everyone at 5.11 to create and launch a program to give back to all of the first responder categories serving and sacrificing, now more than ever, for our communities," said 5.11's CEO, Francisco J. Morales. "5.11's professional customers are the heart of our business and our nation's critical infrastructure. For us and all of our customers, it is an honor to support law enforcement, fire, emergency services, and military during this unprecedented time."
The #EverydayHero digital campaign, originally launched in Fall 2019, will live on 5.11's social media pages @511Tactical as well as through emails and on the company's website www.511Tactical.com. Everyday Hero T-shirts to support first responder charities are available for purchase for $14.99.
About 5.11, Inc.
With offices around the globe, 5.11 works directly with end users to create purpose-built apparel, footwear and gear designed specifically to enhance the safety, accuracy, speed, and performance of tactical professionals and technical enthusiasts worldwide. 5.11 products exceed rigorous standards, which have allowed the brand to establish a reputation for innovation and authenticity, and become the premier choice for those who always have to be ready. 5.11 products can be purchased online, through authorized dealers and retailers, as well as at 5.11 company-owned retail stores. 
Learn more about 5.11's best-selling gear and accessories at www.511tactical.com. Find a full list of 5.11 company-owned retail stores at https://www.511tactical.com/locations/. Connect with 5.11 on Facebook, Twitter @511Tactical and on Instagram @511Tactical and #511tactical.