Why EMS agencies should change their definition of intubation success
Dr. Jeffrey Jarvis, medical director for Williamson County (Texas) EMS, will discuss why delayed sequence intubation is a cure for Rapid Sequenced Death at EMS PRO conference
---
Brush up on best practices and grow your career at the EMS PRO conference and expo, which will be held May 29 - June 1, 2019 at Foxwoods Casino Resort in Mashantucket, CT. Register now for early-bird discounts.
Sponsored by EMS PRO 
Jeffrey Jarvis, MD, EMS medical director for Williamson County (Texas) EMS, knew he was passionate about emergency medical services after his first semester at Texas A&M University.
While going to school and working for Texas A&M EMS, he progressed through paramedicine and worked in a variety of roles. After 10 years in EMS, he went back to school to continue his EMS career as a medical director.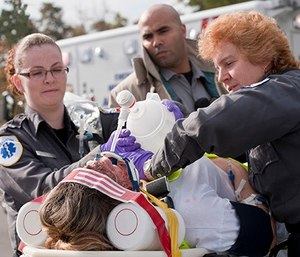 Another passion for Jarvis is teaching EMTs and paramedics, which he has been doing since 1988. He will be discussing Rapid Sequence Intubation at the EMS PRO Expo on May 31 in a presentation titled, "Delayed Sequence Intubation: A cure for RSD (Rapidly Sequenced Death)." You can register for the conference here.
We caught up with Dr. Jarvis before his session to learn more about Rapid Sequence Intubation and Delayed Sequence Intubation.
EMS1: For those who are unaware, what are Delayed Sequence Intubation and Rapid Sequence Intubation?
Dr. Jarvis: The traditional approach to intubation using medications is Rapid Sequence Intubation (or induction). It involves giving a sedative and a neuromuscular blocking agent in quick succession without actively ventilating the patient in between the drugs. The point is to avoid gastric insufflation in a patient who has not been fasting (like all emergency airways).
This approach is predicated on the assumption that the patient is adequately pre-oxygenated. Unfortunately, that is often not the case in EMS and emergency medicine.
When a patient who is not adequately pre-oxygenated or, worse yet, is actually hypoxic is intubated, they have very little time before they become profoundly hypoxic. When this happens, they can become hemodynamically unstable and even go into cardiac arrest. 
A process called Delayed Sequence Intubation has recently been promoted as a means of allowing better pre-oxygenation to prevent these episodes of peri-intubation hypoxia. It involves giving a special sedative – ketamine – to the patient and then using either BiPAP, CPAP or other methods to achieve adequate pre-oxygenation. Once this has been achieved, the neuromuscular blocker is given. The "delay" in DSI is the time period between giving the sedative and the neuromuscular blocker.
You'll discuss in your session that RSI is a common practice in EMS nationwide, but how successful is it?
One of the ideas I'm advocating for is actually changing the definition of what success means when discussing intubation. We've traditionally measured success rates. Recently, the industry has been moving to the metric of first pass success, getting the tube in on the first attempt.
Using national data, I just completed a paper showing rates for RSI at 76.1 percent. Compared to literature on emergency physicians, this rate is pretty low. I argue, however, that it misses a key point: We should be measuring not just first pass success but first pass success without hypoxia or hypotension. In other words, it isn't just getting the tube in the right hole – it should be about doing so without physiologic abnormalities. We really have very little national data about how we are doing with this metric.
Our system just published another paper on our experience adopting a clinical bundle of care, including DSI, to decrease peri-intubation hypoxia. We found that 44 percent of all of our RSI events were associated with peri-intubation hypoxia. I've had conversations with other systems that have begun measuring this, and they report similar rates of hypoxia. Based on these numbers, I'd have to say peri-intubation hypoxia is pretty common. The good news is that our clinical bundle decreased this rate to 3 percent.
What are the challenges of this method?
The biggest challenge is mental. Understanding that pre-oxygenation matters and that hypoxia is dangerous is critical. Once providers understand these two things, it's just a matter of using proven strategies to avoid hypoxia.
The biggest technical challenge, which is much less of an issue than the cognitive challenge, is getting the oxygen saturations up to achieve good pre-oxygenation. Fortunately, the vast majority of these can be overcome with good technique.
What can be done to improve outcomes?
The first and most important thing we can do to improve clinical outcomes is come to grips with the fact that we're not doing a very good job of intubating right now. Once we admit we have a problem, fixing it gets much easier. Our paper on avoiding peri-intubation hypoxia describes four key components: positioning, apneic oxygenation, DSI and goal-directed pre-oxygenation. Again, adopting this bundle lowered our rates of peri-intubation hypoxia from 44 percent to 3 percent.
For EMS agencies or departments that are not currently practicing this, why should they?
While I remain a huge advocate for paramedic intubation, I don't think that, as an industry, we are taking it seriously or doing a very good job of it. My mantra about this is, "If we're going to do this, we're going to do it right. If we can't do it right, we're not going to do it at all."
I think any EMS agency that performs intubation, particularly with RSI, absolutely must look at their performance and assure they are doing everything in their power to prevent the harm that comes with peri-intubation hypoxia.
My presentation covers the science behind this problem and describes the steps we used to prevent it.
To learn more about this and other professional development opportunities available at the EMS PRO conference and expo, visit EMSPRO.org. To register for the conference, visit EMSPRO.org/register-now.