Why EMS should watch 'Marathon: The Patriots Day Bombing'
HBO documentary film about Boston Marathon bombing earns respect of emergency responders and survivors
---
By Walter Dunbar
Movies are made for entertainment; documentaries are designed to educate. HBO's new documentary film "Marathon: The Patriots Day Bombing" is not a reenactment of the April 15, 2013 Boston Marathon bombing. Instead, the film offers EMS providers, other emergency responders and the public an opportunity to see what a terrorist attack, MCI response, manhunt and the healing process looks like filmed in unprecedented real time and told by those who survived.
I watched the premiere anxiously while surrounded by other first responders, doctors, nurses and the survivor community. The film was an overwhelming success among this tough crowd, because it does not focus on getting knocked down. "Marathon" is about getting back up.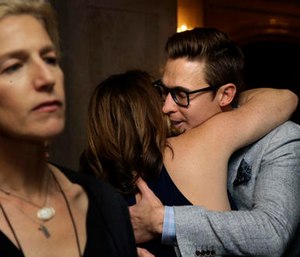 This crowd had been knocked down, but refused to stay down. They gave "Marathon" a standing ovation less than a mile from where three souls perished and hundreds were injured. A standing ovation from survivors with tears in their eyes and prosthetics on their limbs. A standing ovation by the family of MIT officer Sean Collier. "Marathon" earned our respect.
The Boston Marathon attracts worldwide media attention every year. What started out as normal television coverage of the runners and enthusiastic crowd, unfortunately transformed into live coverage of a terrorist attack at the finish line.
Survival, support and rehabilitation
"Marathon" captures the chaos of the explosions, plays the radio traffic, shows the injuries and the immediate public safety response seconds later. Watch as bystanders, soldiers, volunteers and first responders run into the hot zone on a mission to save as many lives as possible. This is what a bad incident looks like before, during and after.
"Marathon" highlights the survival, support and rehabilitation of three families whose lives were changed forever on Patriots Day. The Norden brothers, Corcoran family and newlyweds Patrick and Jessica Downes are featured as they continue to heal physically and emotionally from what should have been a fun day in the city.
There is a lot to be learned tactically from injury patterns and presentation, but also from each survivor's journey of healing and hope. These brave survivors allow the audience a look into the trials and tribulations of recovery as well as their triumphs. One doctor interviewed in "Marathon" explained to double amputee Celeste Corcoran how amputations and prosthetics should be treated as a lifelong disease and not just as an injury. There is no quick fix and not everyone heals at the same rate.
The problems a traumatic injury cause are not solved with a tourniquet or even surgery. Discharge papers do not include instructions on how to live again. Wounded warriors, many with similar blast injuries sustained in combat and who now use a prosthetic, visited Boston Marathon survivors in the hospital to inspire hope and demonstrate that life can and will get better with time. 
Invisible injuries such as PTSD, hearing loss and survivor's guilt can be just as debilitating as physical injuries and take longer to heal. Time does not heal all wounds, but it will provide an opportunity to heal.
The worst brings out the best
Stories of survival are universal. The strength gained from bearing a heavy burden is one of inner triumph and not external glory. It is possible to gain something out of your loss. These survivors are the archetypes of what the world calls "Boston Strong," but that inner strength could be developed anywhere from nearly anything in countless situations.
Events from tsunamis to earthquakes to active shooters to bombings bring out the best of people while confronted with the worst. I am reminded of the proverb, "They tried to bury us. They did not know that we were seeds."
After the devastation, it's time to put back the pieces and there is no guide for that. Perhaps, "Marathon," by exposing more people to the problems that survivors and their families confront, will prepare all of us to become better people and caregivers.
About the author
Walter Dunbar, EMT 1021, has been a member of Boston EMS since 2008 and an EMT since 2002. He decided to become an EMT on 9/11/2001. On the day of the marathon bombing, he was stationed in the family greeting area a few blocks from the finish line. When the bombs went off, he responded to the finish line to care for the injured. Dunbar was never a runner prior to the bombing, but has since run the Boston Marathon every year as his pilgrimage and for those who can't. He attended the Boston premiere of "Marathon" on Nov. 15.