Setting the table for community paramedicine
It's not as hard to get started as you might think – follow these initial steps
---
Sponsored by Pulsara
By John Erich, EMS1 BrandFocus Staff
Few experienced paramedics need to be persuaded of the value of community paramedicine – they've seen the repeat 911 callers, the chronic problems and the social factors that trap people in cycles of poor health. But against so many problems so large, it's hard to know where to begin. Who should a CP program serve? What should it try to do?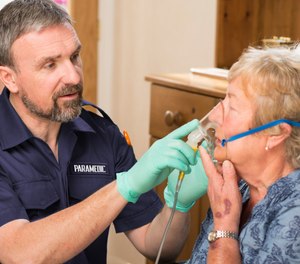 The good news is, the answers to those questions aren't unknowable, and it's not as hard as you might think to get a basic program up and running. Here is a guideline for departments willing to take that step toward more comprehensive care for the vulnerable in their communities.
Step #1: Assess your needs
You might have certain interventions in mind from the outset. But whatever your program does should be based on data, not impressions or anecdotes. Focus on what your population needs, not what you want.
"It really is important that you do what's right for your community," said veteran EMS writer and educator Hilary Gates, MAEd, NRP, director of educational strategy for Prodigy EMS and a volunteer paramedic with the Alexandria Fire Department in Virginia, whose community paramedic program she helped found in 2017. "If you start by saying, 'I'd like to help solve the opioid crisis,' you might find there's actually more meth in your community than opioids."
Identifying appropriate areas for intervention best begins with a needs assessment – an evaluation of areas where current conditions fall short of expectations. Veteran providers may already have a sense of such areas in their communities, and agency ePCR data can yield insights into call types and frequencies. Sources like NEMSIS (the National EMS Information System), CARES (the Cardiac Arrest Registry to Enhance Survival) and top EMS software companies can also provide data to get you started.
Developing thorough high-level pictures may be best left to those with training in statistics and public health, but the good news is that in many places, they've already done just that, and their work is free and available to the public. In Alexandria an assessment had been done by the Inova Health System, a major health player in the area, providing Gates and her colleagues a head start.
Once you have data, look for gaps – areas where needs aren't being met – that your agency and its potential partners could be qualified to fill. Focus on underserved spaces and avoid duplicating services others already provide. Dollars are too scarce to reinvent wheels.
Step #2: Start modestly
It's glib to say look for low-hanging fruit, but meeting basic problems with basic answers can improve people's lives quickly. The initial thrust of Alexandria's program was fall prevention.
"We knew we could easily mine our data – just pull from the ePCR data to see who had fallen more than x number of times in a certain number of months or weeks," said Gates. "Then we could go to them with the CDC checklist for fall-proofing your home and making it safer – looking at things like throw rugs and small dogs and slippery surfaces and handrails."
Starting small like this had several benefits. One, the patient data was at hand and accessible. Two, interventions were straightforward, and the results measurable. Three, it wasn't a big spend in time or money. Alexandria started its program without major funding or full-time community paramedics, instead leveraging a handful of motivated medics and a bit of overtime.
Step #3: Identify partners
Still, there's often not much even the most motivated EMS agency can do by itself. Community paramedicine requires community, and one form of that is partnerships.
An early meeting with staff from the city health department's office on aging helped Alexandria Fire's team confirm they were on the right track.
"We met with them and told them what we were doing, and they were really excited," recalled Gates. "They said, 'We already have a list of residents who have problems with falls, and we've been to their homes to do fall prevention!' We didn't know that! But it helped us a lot, because we could either know we didn't need to see them again, because they'd been seen, or we could reach out to work with them."
Beyond helping identify candidates for assistance, such collaborations also facilitate meeting needs and resolving problems on the back end. A municipal office on aging, for instance, may link you to gerontologists and physical therapists who can help keep geriatric patients on their feet. Similar collaborations should be guided by the type of program and interventions you're conducting, but can involve a wide array of partners, from medical specialists to transportation services, food banks, counselors, educators, volunteer groups and more.
In Alexandria, students from a local university's public health undergrad program assisted with outreach as part of the seniors' capstone project. Level 1 trauma centers, should there be one in your area, also work with EMS on injury prevention and other research.
For Gates' program, at least, every potential partner approached understood the value of CP and was willing to assist.
"The beauty of community paramedicine is the integration aspect – being able to pull in experts in different fields," Gates noted. "When all of that comes together, you really have much less of a lift than if you try to do everything on your own."
Step #4: Prepare your providers
Veteran paramedics already have many of the job skills needed for community paramedicine, but additional formal education is available and valuable (and in many places required). The International Board of Specialty Certification (IBSC) offers official CP-C certification with passage of its exam; the National Association of Emergency Medical Technicians (NAEMT) has a community paramedicine series to help prepare candidates to take it. Courses within the series may cover areas like motivational interviewing, nutrition and wellness, hospice and palliative care, mental health and substance abuse, geriatrics, pharmacology and more.
For higher-education options, check with your state EMS office. The Minnesota-based Paramedic Foundation offers a curriculum for colleges and universities to deliver CP education, most recently updated in 2021. Download that here. For agencies it offers a community paramedic program operational handbook, available here.
The National Association of State EMS Officials (NASEMSO) describes a national curriculum and career pathway here. The Minnesota Department of Health offers a range of resources. And the Rural Health Information Hub provides a toolkit and more information here.
Step #5: Reorient for success
EMS crews work to clear scenes quickly and move on to the next one. Community paramedicine requires a more deliberate approach – sitting, talking and getting to know patients, their problems and what makes them tick. For many providers this is a welcome change.
"I felt like a fish out of water at first," said Gates. "When my first community paramedic patient said, 'Would you like to sit down and have some tea?' at first I was going to say no. Then I realized, I can sit down – I can have tea! So I sat across from this patient for half an hour and talked to her with no sense of urgency. That felt right, and it was one of the most rewarding moments I've had in health care."
Trust is an essential component of the CP-patient relationship. That takes more than 10 harried minutes.
Keep care partners connected
Pulsara offers a secure, HIPAA-compliant communication platform that connects all the providers on a patient's care team on one secure communication channel, regardless of organization. With Pulsara, community paramedics can build a care team based on the needs of the situation. They can instantly connect with community resources, specialized behavioral health providers, emergency medicine physicians or medical control via live video calling. This simplifies and streamlines essential communications, enabling faster treatment and a better patient experience.
Pulsara's behavioral health patient type can be an especially useful tool for CP care teams that assist patients with behavioral health crises. Pulsara can help connect community paramedics to resources like crisis counselors and emergency physicians and facilitates communication among the facilities where patients might need services. Group video and telehealth calls with specialists can help CPs expand access to high-quality care and reduce health care disparities for rural and marginalized populations.
don't be afraid to ask
A final note about wheels and reinvention: If you're just now becoming involved in community paramedicine, odds are someone is already doing something close to what you'll do. Your task may be as simple as duplication.
"If you have an idea you think might work, go look for it before you start creating something yourself," advised Gates. "It probably exists somewhere. EMS people are some of the nicest people on the planet, and you can literally just call them up and ask them to help you with what you're doing. And they will 100% share their data, share their stories and share the tactics they used to succeed."
Visit Pulsara for more information.
READ NEXT: Six EMS response tips for mental and behavioral health calls 

Request information from Pulsara
Thank You!